A terminal removal kit is all you need for safely releasing the wires from the plastic harness. Whether you are a technician who has to remove the terminal wires daily or a car owner who likes tweaking with his automobile, we all need the perfect terminal removal kit to make the job easier.
Without these useful tools, releasing wires from plastic connectors is not only tricky but time-taking as well.
The small tools come handy in removing delicate wires safely. Little pins can save a lot of money if you only know how to use them.
You can save the repairing money, money spend on new wires, and also a new terminal when you think it is causing trouble.
Probably it's nothing big than a small wire, not at its place. In this article, we will look at some of the best terminal removal kits for your convenience. We will review some of the best tools in the market so you have a better idea of what suits your needs.
We will also discuss the buying guide for choosing the right tool kit for your garage. So stick along as this post will be beneficial not only for technicians but also for home users who can save money by fixing small issues in terminal wires.
Best Terminal Removal Tool Kits
If you want to invest in excellent tools for removing terminals, we can help. We have selected some of the best options in the market for your convenience. Let's review each option in detail to understand how these kits can make your job easier.
Best Overall
Menkey Terminal Removal Tool Kit For Car
What We Like In This Product
What we like about this terminal removal kit is its affordability. It is a very cost-effective option. It does not mean that you have compromised on the quality at all. The quality remains good, and the tools serve the purpose well.
Product Overview
Menkey Terminal removal kit is a pack of 35 pin release extractors that you can use for removing all types of connector terminals.
The key ring-shaped kit offers an easy and quick solution for removing terminals. It's a combination pack of different sizes and shapes of keys that you can insert in a terminal connector for smoothly removing the wires.
The package consists of 12 pcs single pin extractor, 20 pcs double pin extractor, one pc three-pin extractor, and 6 pcs casing tools. It means the package covers all your needs pretty well.
You don't need any extra tools for removing terminals as these pins come in different sizes. Whether it is single pins or fork-like pins, they all come in different sizes to suit your needs.
All pins are made of superior quality stainless steel. The handles from where you will grip the keys are made of good quality plastic that won't degrade with time.
The kit simplifies the terminal wire releasing process. You don't have to pull apart or push in the tools with force. Choose the right size of the key and insert it in the front end opening. It should press the unlock barb, and that's it—no need to waste time by prying open the terminal wires.
Pros:
Good quality steel construction.
Includes different size of single or double extractor pins.
It comes in compact and easy to carry shape.
Durable construction.
Wide application.
Cons:
The pin side of keys is easy to flex.
No reference to know which pin is to be used for what.
59 Pieces Pins Terminals Removal Tools
What We Like In This Product
This terminal removal kit comes with great variety. It consists of 59 pieces that are enough to extract the wires out of terminals safely. The variety of keys allows you to choose the right key for the correct terminal, and you don't need to waste time at all.
Product Overview
The package comes with a lot of useful options for removing the terminals safely. The package includes 19 single pin extractors, 25 double pin extractors, one three-pin extractor, and about a dozen casing tools. The pins are enough to open terminals of any electronics at home.
All pins have different sizes to suit other appliances at home. The removing process becomes easy and time-saving. Just insert the right pin and hit unlock for effortless operation.
The removal kit comes with universal use. You can make use of it for any automobile like bikes, cars, motorcycles, home appliances.
The pin keys are useful not only for removing the terminals from plastic connectors, but you can make use of them for adding new wire into the connectors as well. That means it works for both removing or adding the terminal wires safely.
The keys have a simple construction and come with an easy solution. Nothing fancy, but it indeed serves the purpose well. It is a very budget-friendly option and a must-buy item as well.
Pros:
Good variety of pins.
Works on all types of connectors.
Easy to carry.
Hassle-free use.
It can be used for both removing and adding wires.
Cons:
Vadiv Terminal Removal Tool Kit For Car
What We Like In This Product
What we like about this product is its universal application. Although the kit is designed for the car terminals, you can use it for any other electronics. The wide application makes this kit essential for both professionals and home users.
Product Overview
This one is another complete kit with various pins and extractors for safely removing terminals. It's a pack of 41 Pcs set that includes everything you need for removing terminals. The package contains 12 single pin extractors, 20 double pin extractors, 1 three-pin extractor, and about six casing tools.
The different keys have universal applications. You can remove any wires safely as long as you know which size is right.
All keys are made of high-quality material that won't bend. Though the use of force is not recommended, pins are still strong enough to withstand light pressure.
The keys are sorted in three stainless steel beaded ball chains. The packaging makes it easy to store and carry. You can hang the keys on a pegboard for quickly finding when you need it.
The pins are perfectly safe for even very delicate wires. They do not have sharp ends that may damage the wire in the removal process. So you can make use of them confidently as it won't damage your original wires.
Overall, it's an affordable set of terminal removal tools.
Pros:
Lightweight and portable.
All sorts of pins for extracting wires.
Good quality tools.
It comes in the form of three key rings.
Affordable price.
Cons:
The size of the keys is manually measured, so it may not be accurate.
Betooll 23-piece Universal Terminal Release Kit
What We Like In This Product
It's a complete professional kit that has universal terminal removal tools. The kit comes nicely packed in a box. The tools are carefully arranged in a line, and you can pick one that you need easily.
Product Overview
This one is an expensive kit that comes with professional tools for removing the terminal release. It's a 23 pcs kit that includes everything. The kit comes with universal tools suitable for removing terminals from any automobile and all other electronics.
Betool offers a convenient solution for removing terminal. It comes with different pin extractors for removing the plastic housing safely from the wire.
All tools in this kit have premium quality. The metal construction made them durable. The chrome finish on steel makes these tools more long-lasting. It is rust-resistant steel.
The tools have a very comfortable grip that makes it easy to work with them. They have rubber and plastic handles that give you a secure grip when you are removing terminals. The tools are individually marked, so it is easy for you to choose the right tool while working.
The best part of having this kit is its presentation. All tools are neatly arranged with their referenced marks on grips. The case is made of heavy-duty plastic that is going to stay with you for long.
Pros:
High-quality tools.
It comes with a durable plastic casing.
Comfortable grip.
Works for all automobile terminals.
Durable construction.
Cons:
Bit expensive.
Difficult to carry.
Lisle 57750 Wire Terminal Tool Kit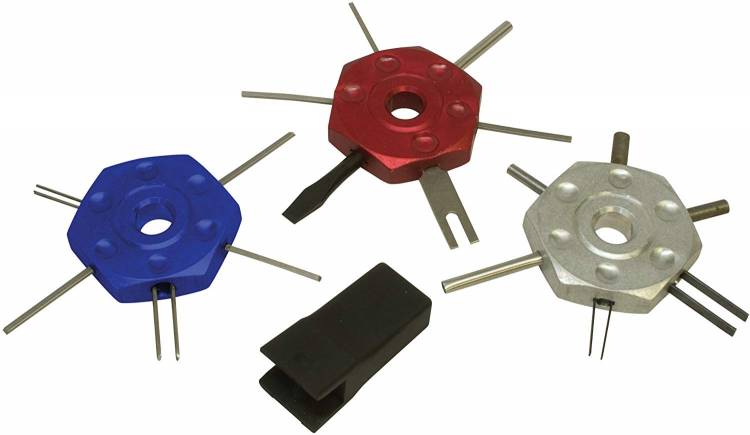 What We Like In This Product
What we like about this product is its simplicity. For the simple task of terminal releasing, you don't need too much clutter. The kit comes with three ring-shaped tools with different pins for releasing terminals safely. And it serves the purpose well.
Product Overview
It's a straightforward yet effective tool kit for releasing terminals from the plastic housing. The three tools have different pins that can be used for safely releasing the terminal wires. The tool comes with all types of pin extractors for unlocking the wires.
There are single pins, double pins, and round-shaped casings that fit in almost any type of terminals. The pins work on both conventional terminals, Pack-on terminal, and Weather-pack terminals as well.
Besides the regular pins, the kit includes a unique tool that fits into the Ford applications. So this one kit will help you release any terminal safely and efficiently.
The kit includes a secure handle that makes working with these tools easy. The handle provides leverage to the technician's hand that makes his job easier. It will save your hand from getting pricked by the sharp pins while working.
The kit seems a bit overpriced, but the quality of the tools is satisfactory. The tools come in a grey plastic case that makes it easy to store the kit. Overall, it's a good and lifetime investment, especially if you have a garage and work on cars.
Pros:
Simple and effective tools.
Include all types of pins.
Great for any terminal.
It comes in a secure case.
Durable design.
Cons:
Afa Tooling Terminal Release Tool Kit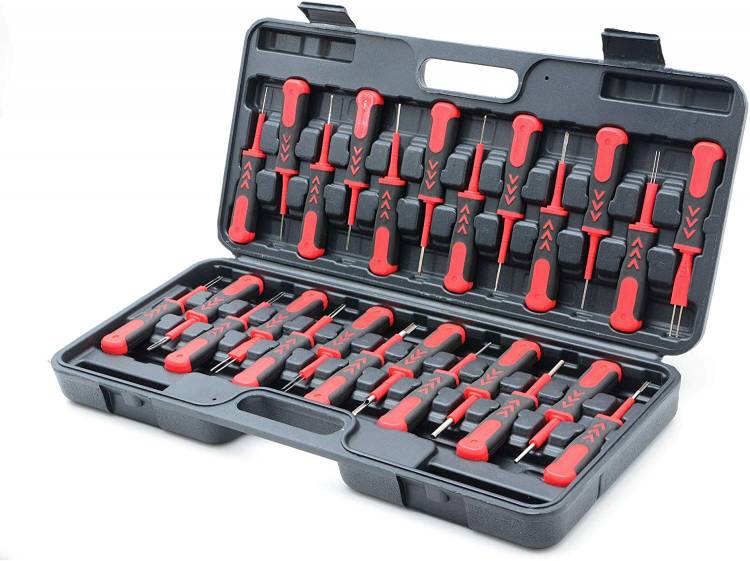 What We Like In This Product
This one is a premium quality tool kit that suits professionals and technicians. It may be a bit overkill for house use as the tool kit comes with a complete set of different pin extractor for safely removing the terminal casing. It comes in great packaging as well. So an excellent addition to your collection of tools.
Product Overview
This one is a complete professional kit for releasing terminals. It's a 25 pcs kit that completely covers your needs. The tools inside come with different sizes and widths of pins that are good for releasing any terminal. You can make use of it to work on any terminal at all.
The kit includes letter marked tools that are easy to access. The kit allows you to fix the small wires conveniently that is both time and money-saving.
All tools are made of premium quality steel. The heat-treated steel is made to last. The stainless steel tips are specially designed to safely unlock the barb so you can easily remove the wires.
The tools come with easy to grip rubber handles that stay comfortable in hand and enable you to perform the job comfortably. The handles are also designed to be safe for the technician's hands.
The tool kit is suitable for all types of terminals, including Pack-con Terminals and Weather-Pack.
All tools are arranged neatly in a durable plastic molded box. Organized tools are easy to access. You can pick the right one within seconds that saves a lot of time.
Pros:
A complete professional kit.
Heated steel construction of tools.
Tools with different types of stainless steel tips.
Secure and comfortable grip.
It comes in a well-organized case.
Cons:
Great for professionals but a bit overkill for your tool collection.
Buying Guide Of Choosing A Terminal Removal Kit
Buying a terminal removal kit seems like a simple task, but you can only select the right option. So here is a quick reminder of some of the things you should consider while choosing a terminal removal tool kit.
Type Of Kit
There are different types of terminal removal kits available in the market. Some are simple tools that come in the shape of keys and pins; others are fancier and come in proper casing and tool assembly. So you may choose the right tools depending on your individual needs.
Personal Use
If you are a car owner and like to fix minor issues at home to save some bucks, you may choose a simple and not so fancy tool kit that allows you to release the terminal wires without much hassle.
You may not need the bulk of other pin extractors for removing terminals from any other electronic appliance, though it might help as well. You have simple needs that can be catered to by selecting a simple set of tools.
Professional Use
However, if you are a car mechanic or any other electronic engineer, you can opt for a complete set of universal terminal removing tools.
These kits are a bit pricey if we compare them to other simple tools, but they have a much wider application. You can make use of them for releasing the wires from any automobile and home appliance. So they are like a one-time investment for multiple jobs.
Types Of Automobile You Deal With
Again it depends on what type of automobile you have or deal with. You should always look for the right tools designed for fancy cars like BMW, Mercedes, Jaguar, Audi, or any other. So again, here THE rule applies – if you are looking for one particular car or in general for any automobile.
Number Of Tools
Terminal removal kits come with different sizes of tools. The number of tools in a kit depends on the brand you are choosing. Some kits offer 21 pcs set, some have above 40 pcs, and some even offer above fifty tools.
More tools mean you have more variety in terms of tools selection as you need the right size of a pin to insert in the small opening to unlock the wire. The pin extractor won't go in the casing if it is not the right size. So more tools mean you can select the right one that fits in the casing and unlock the wire.
Material
Almost all tools are made of stainless steel. Some expensive ones have better finish and strength than the cheap option. The expensive kits offer superior steel made tools with a chromium finish that makes them more long-lasting.
The tool kit's handle should be made with good quality rubber and plastic so that it remains comfortable in hand.
Strength
Though the terminal removal tools have a sharp and pointed tip, that does not mean they can be flimsy or weak. If the pins are too weak, they will bend with pressure rather than unlocking the wire.
Also, the tools made of cheap quality will bend with frequent use and won't be of use any longer.
Casing
The storage casing of tools depends on the type of brand you are choosing.
Some terminal removal kits come in the form of keys. A beaded chain secures them. These tool kits are easy to store and more portable.
On the other hand, the more expensive options come in a plastic box where they are better organized. Accessing these tools is easier as everything is arranged very neatly.
Types Of Terminals
You need different tools for different terminals. There are standard terminals; then, there are Weather-Pack or Metri Pack terminals that require special tools. So make sure the kit you are selecting has all types of terminal releasing tools, including single pin extractor, double pin extractor, or other tools to suit different sizes and types of terminal casings.
Blade Style
As we said, you need special tools for different terminals. There are different blade styles to unlock the wires in the harness. There are flat, tube, square, notched, U-notched Flat, pins, and other types of blades designed to remove the wire safely in different plastic harnesses.
Price
Both budget-friendly and pricey options are available in the market. The cost of the tool kit depends on the following factors:
The brand you are choosing
Number of tools
Storage casing
Quality of tools
Durability
So you can make a selection depending on how often you need these tools. If you are just a hobbyist who likes to repair some electronic appliances and the personal car once in a while to save some bucks, you should choose an affordable terminal removal kit.
However, if you are a professional and looking for diverse use, durability, and broader application, we recommend choosing an expensive kit.
Grip
The tools should have comfortable handles. A convenient handle allows you to do your job easily and in less time as well.
Security
Pin extractors in any terminal removal kit have sharp and pointed edges. They are easy to prick and cut if you are not careful with these tools. So make sure you choose a kit that provides a smooth and comfortable grip and a secure handle for doing the job safely. A handle is preferable, as it would allow you to remove the terminal wires carefully.
Easy To Store
Either terminal removal kit should come in a safe and protected plastic box, or you can expect them in beaded chains that are easy to carry and hang. So make sure you choose the kit that is easy to store in your workplace.
Reference And Marked Sizes
The tool kit should always come along with some references so that you can have a better idea of which tool is for what.
All tools should be clearly marked for easy identification. Without measuring reference, you won't know which one should be used for releasing a particular terminal. Explicit references save time and allow you to perform your work more confidently.
Durability
Again, tool kits like these are not bought every day. You can select a cheap option, but it won't stay with you long. So make sure you are choosing a durable and quality product that will keep serving you for long.
See Also: Best 5 Ball Joint Press Tools
Benefits Of A Terminal Removal Kit
Here are a few benefits of buying a terminal removal kit.
Saves Time
Removing the delicate wires from the terminal is not an easy job. It would take longer if you are trying with the wrong tools. So investing in the right tools will allow you to save time and do the job quickly.
Saves Money
Sometimes all it takes is some quick fixture to these little wires that are causing you trouble. You can save some money by fixing these small issues at home without any professional help. This way, you will save the right amount of money.
Keeps Wires Undamaged
Pry opening the terminal will result in damaging your original wires, which is not something we all want. You can use special tools that are designed to make this difficult task more straightforward for you. So the right use of the right tools will save your original wires.
How To Release The Terminal?
Here are a few tips that can help you release the terminals quickly.
Don't force the wires, or you can damage them.
The wires are locked in the plastic harness, so pulling out the wire can damage it. All you need to do is to unlock the wire.
Use the right tool, and you can choose the single or double-pointed tools depending on what type of terminal you are working on.
Insert the pin in the plastic cover.
Don't force it inside; it should go in smoothly without much hassle.
Press the lock on the wire.
It will release the wires.
Pull out the wires.
Please press the lock before inserting the wire back in to lock it securely.
Final Thoughts
Releasing small wires from the plastic housing of the terminal can be difficult. Terminal removal kits are an affordable option for releasing the wires from the plastic housing. The right choice of tools and careful use of it can not only save your expensive harness, but it saves your precious time as well.
Above all, these kits are easily affordable and worth the price you spent on them. The tool saves the delicate wires and enables you to perform the job safely. It's a must-have item if you work on cars or any other automobiles.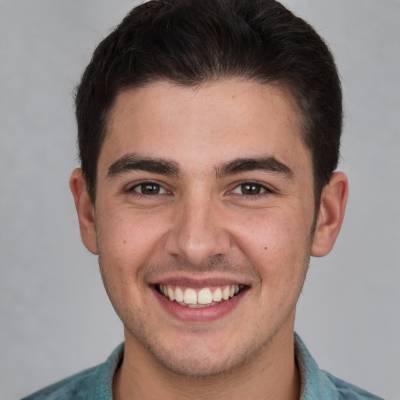 Kevin has been hanging around cars and automobile magazines since he knew what a car is. He grew up in his father's 1995 Mercedes E320 Wagon and Volkwagon Phaeton W12 2004. He rides his first car, a manual 1979 Porche 911SC.
Currently, he owns an Acura Integra GS-R. During his childhood, he showed a keen interest in how things actually work and fix them. This passion transforms into his eternal love for cars and bestows him an ideal position in one of the leading automobile companies; whenever he finds time, he takes out his Acura and opts for the longest possible route to find hidden wholesome pleasure in a road trip.
Want to read some of the articles written by Kevin? Head to our blog section to find out all the articles written by Kevin.