A ball joint press tool is used to remove ball joints from a control arm. Mechanics or any automotive user will at one time or the other need a set of ball joint press tools.
They're used in a variety of tasks in the automotive industry. Some of them are installing brake anchor pin replacement, universal joints, ball joints, tie rods, and other specialized jobs.
It's necessary for any person who owns a vehicle or a mechanic to take charge and invest in a ball joint toolset that will not disappoint.
When making a purchase, we must consider several factors – for instance, versatility, portability, or compatibility.
Therefore, we reviewed the best ball joint press tools available in the market. Hopefully, it will aid you in choosing the best one.
Best Overall
OTC 6530 Ball Joint Press Kit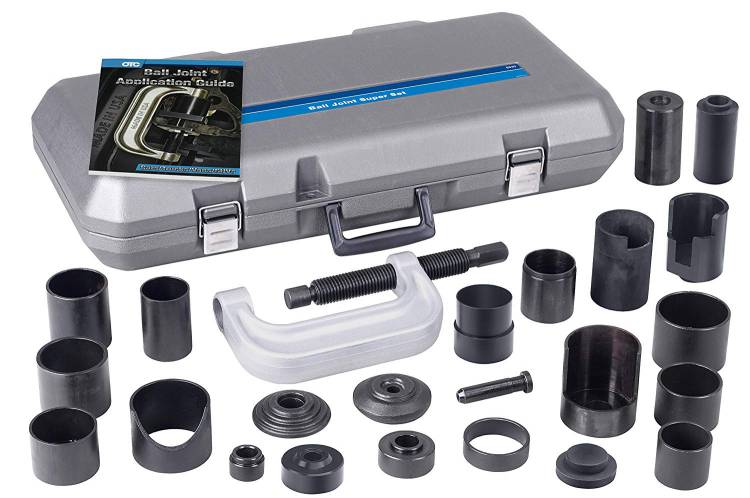 First on the line is our review is the OTC 6530 Ball Joint Press Kit, manufactured by one of the reputable companies – OTC.
Whether one is unskilled or a professional, this tool would be an ideal choice. It's able to handle day to day activities due to its versatility.
Besides, it's high quality, unique in design, average-sized, so portability is not a challenge.
Compared to other tools, OTC 6530 may be high priced, but people prefer to buy it because of its performance and durability.
Its flexibility will draw any mechanic to go for it bearing in mind its ability to combine some of the most useful OTC kits in the market.
These are 7996, 7918, and 7249 models, allowing to work on Trucks, Vans, and SUVs, which models were made between 1972 and 1997.
The kit also comes with over 20 adapters and cups. All of them are sufficient to cater to many ball joint services in the automotive industry.
Features:
Storage case – vital to move from one place to another without a struggle. The case of the 6530 toolset is blow-molded, which gives the mechanic or a user a professional look, and any person would want the services of a professional. Besides, the set of tools inside remain safe and well organized.
Adapters – The 6530 Ball joint set comes with multiple adapters, which fit most vehicle models. This gives it firsthand for the user to support and give excellent services to vehicle owners.
C-Frame tool – another vital tool that aids the mechanics during the vehicle repair without straining.
User manual – available on purchase, simple and clean.
What we liked about the product:
Easy to use – This is because the instruction manual has all the usage information.
Affordable – This kit is available at a reasonable cost, besides having quality items.
Versatile – Besides having a substantial number of adapters, OTC 6530 kit gives one freedom to work on popular vehicles, whether installing or removing parts straightforwardly.
Designed with professional users in mind – high-quality meant for professionals.
What we did not like:
It's quite heavy – People who move around with the kit find it too heavy to carry along.
Neiko Automotive Ball Joint Tools
If you are looking for a Ball joint service kit that will support a wide range of parts, you can never go wrong buying the Neiko Automotive set.
You can easily use it with parts such as the truck brake anchor pins, universal joints, and ball joints.
Among the tools included is the clamp tool, which helps remove any rust efficiently. This toolset comprises 3 receiver tubes of different sizes, a C-Frame press, and ball joint adapters.
This is an ideal set for professionals engaged in a wide range of repairs.
What's more to this tool is that it can remove and install ball joint adapters, which are as old as these from 1967 models. It's versatile enough to work on old and new automobiles with ease.
Features:
C-Frame press
Clamp tool -You do not have to use force during vehicle repair. The cramp tool will assist you in carrying the load.
Blow-molded handle case for ease of storage, organized toolset, and portability.
What we liked about Neiko Automotive Ball Joint Tools:
It's portable
Affordable
Versatile – One can use it to fix various models of vehicles with ease.
Flexible – Easy to change ball joints while using the toolset.
What we did not like:
The C clamp might be too small to support heavier vehicles like the BMW.
Alltrade MasterBall Joint Tool Set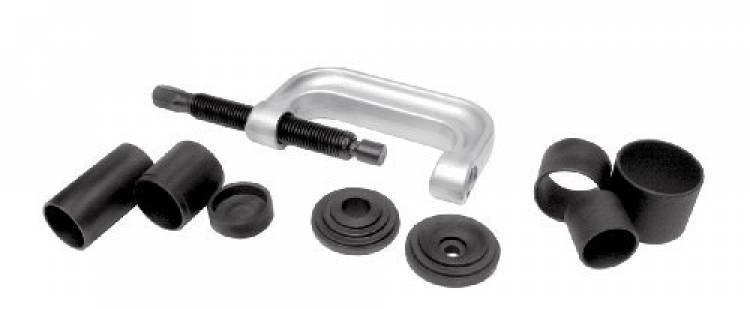 Among the essential factors to bear in mind is how this tool will support you when in need.
Whether you are a professional mechanic or an amateur, the Alltrade is a user-friendly tool for performing tasks independently.
Again, Alltrade is among the most reputable manufactures, and one is assured of buying quality and durable toolset.
It does not segregate the vehicle model since it's an ultimate set that will comfortably remove and install the ball joints.
The molded tool it comes with is portable and has a comfortable carrying handle.
It's also capable of removing and installing U-joints, making it have a competitive advantage compared to others.
Its manual is also easy to read and understand, making it a user-friendly tool, especially for the experts who deal with many technical details.
Features:
A universal toolset that accommodates all vehicle models regardless of age.
Has a comfortable molded carrying case for ease of portability and storage.
A wide range of tools in the set.
What we liked about the Alltrade MasterBall Joint Tool Set:
No experience is needed to operate – In as much as most of the professional tools require some training and experience, this is not the case for this case. With the 24 piece kit, there is an instruction manual easy to understand. This makes it more interactive and straightforward for a new learner, even with the first-day operations.
Time management – The 24 piece Alltrade kit is a fantastic kit to deal with. With all the assorted tools, one can remove and install the ball joint at ease. You do not need to remove the control arm since there is a tool to offer support to the arm as the disassembling process occurs. Besides, buying a new car does not mean that you need to change the kit since it's versatile.
Manufactured by a reputable company – Alltrade is known for making unique and long-lasting tools. Buying the set is an automatic assurance that you will get quality work upon its use. Besides, their tools have continuously exceeded the industry standards.
What we did not like:
The toolset is highly-priced
The cups are not strong enough to endure heavy duties.
Ram-pro Ball Joint Press Service Kit
Ram-Pro Ball joint service kit will make you enjoy removing and installing a ball joint for the better part of your life as a car owner or a professional mechanic.
This is a tool specially designed to manage all types of vehicles without removing the control arm.
Among the uniquely designed tools and accessories that are in this set include:
C-Frame Joint Press
Jackscrew
Install adapter
Adapter remover
Receiving tubes
Receiving cup
Long-lasting storage case.
Additionally, removing any rusted ball joint is not a challenge because it's made from Solid crafted Heavy duty drop, enhancing durability and resisting corrosion.
Features:
It has three receiving tubes.
4 in 1 Joint repair set kit makes it versatile to use in a wide variety of vehicles without removing the control arm.
A heavy-duty Blow Molded Case that protects the toolset during transportation and storage.
What we liked about Ram-pro Ball Joint Press Service Kit:
Easy to use – It comes with a manual that aids even inexperienced ones in reading, understanding, and carrying out repairs on their own.
Portability – The blow molded case makes it convenient to move from one location to another.
Compatible – Having been made for all types of vehicles, it makes it possible for vehicle owners to buy one with an assurance that even after the change of a car, the toolset will still be reliable.
Affordable – It has a reasonable price.
Astro Pneumatic 7897 Ball Joint Tool Kit
Most professional mechanics prefer the Astro 7897 Ball joint Tool Kit due to its durability. It is ideal when removing or installing ball joints, universal joints, and truck brake anchor pins.
Having been made from heavy-duty steel material, it will last for many years. Its blow-molded case is strong enough to aid in transport and keeps the tools organized.
It also has a Forged C-Frame that can be used to remove and install universal joints independently.
Among the components of this set are removing and installing adapters and all the receiver tubes. All these would work efficiently for Ford, Dodge 2, 4-wheel drive vehicles, and also the GM.
Features:
Made of heavy-duty steel for durability.
It's a four-wheel-drive ball joint.
It has a compact molded case for ease of storage.
What we liked about Astro 7897 Ball Joint Tool:
Easy to use – There are accessories such as the C-frame, which can be used to remove and replace the universal joint. This makes it unique in its way, and you cannot miss operating your driveshafts should there be a challenge. This kit will sort it in no time.
Strong carrying case – Everyone is happy to see the return of investment. Investing in an excellent Ball joint press tool is a reason to celebrate. Astro 7897 is a durable case, and more so, each tool has its place to store after use. This makes it more handy and portable.
Durable – Anyone who owns a vehicle can attest to it that changing ball joints is inevitable once in a while. Think of the movements that cars make the whole day long; the ball joint swear out, and there is a need to keep replacing them to continue getting the desired service. With the Astro 7897 Ball joint toolset, you are not afraid that the accessories may break up at any time. This is because they are made of durable carbon steel that will eventually last for a lifetime. Even when the ball joints become so tight that removing them is a threat, this toolset will leave nothing to work, but you are assured that last and remove those impossible ball joints even in old age.
Ball Joint Press Tools Buying Guide
Choosing the right tool for the expected job is, at times, a challenging affair. However, with proper research, this should not be an issue.
Among the things that one should check when it comes to buying the ball joint tools include;
Portability – Moving from one place to another without a proper carrying case can be a tedious affair. When choosing the best ball joint tools set, ensure that it has a molded blow carrying case to keep your tools organized and safe. Besides, your daily activities will be a walkover with when assured that the carrying case is in place.
Manufacturer – It's always important to get tools from reputable manufacturers. This is to make sure that they are made from quality material and long-lasting.
Compatibility – Ensure that the tools are versatile enough to carry out several activities such as truck brake anchor pins, removing and installing ball joints, and removing universal joints.
Additionally, the toolset should be compatible with different types of cars, especially when one is a professional mechanic.
The number of tools in the set – Each tool has its function. An excellent ball joint toolset should have at least ten tools, including the C-Frames, screws, installing cups, 4-WD ball joint, and you will be sure that the work will be perfected with ease.
Again, quality tools will still work on corroded ball joints regardless of their hardness and corrosion effect.
Frequently Asked Questions
How do you remove the upper ball joint?
People find it challenging to remove the upper ball joint. All the Ball joint tools come with a manual.
In this case, one needs to use a ratchet and socket to loosen the ball joint nut. Once loose, set the ball joint separator between the metal cap of the ball joint.
Use a hammer to hit the separator's flat end, and the upper ball joint will be separated from the control arm. At this point, it should be easy to remove it.
Is it possible to drive a car with a faulty ball Joint?
It's not good driving a car with a faulty ball joint. If this happens, the ball joint will ultimately break, and the vehicle will move in any direction.
This will end up dragging the tire, and you will be forced to replace the tire at an additional cost.
It's therefore vital to change the broken ball joint as soon as possible to prevent further damage.
Is it necessary to align the wheels upon changing the ball joints?
If the only challenge experienced was about ball joints, and the ball joint press toolset has effectively helped remove and replace the new ones, it is not necessary.
Final Remarks
Whether one is a vehicle owner or a mechanic, there is a need to have a ball Joint press tool to replace a damaged ball joint.
You do not have to keep borrowing from others, whereas there are available and affordable tools to work the assignment. The list we have given about the best ball joint press tools are highly recommended.
A reputable manufacturer is always an essential factor. You will be sure that the tool is made from a quality material that is not only long-lasting but will perfect your projects without stress!
Patrick started his love affair with cars in his childhood. Over the years, he claims a sturdy hold on his driving skills, along with a thorough understanding of cars. We can expect some interesting, holistic, and pleasurable blogs with his flair for writing and his love for cars.
Being a car enthusiast, Patrick has experience comprising of two decades in which he has ridden some of the meanest and strongest machines in the automotive industry. His previous avatars include an automotive professional, photographer, and journalist, and you will certainly experience the roundness of experience in his piece on this site.
In his second decade of reviewing cars and analyzing tools, Patrick is all set to give you convincing, reliable, and the latest information regarding what's happening in the automotive industry. Currently, he owns a BMW Z3 but cannot get his eyes off Aston Martin DB5. He is a car enthusiast; he loves cooking and listening to music, especially jazz. Here are some of the pieces written by our ace author.