A dented bumper is a heartache. However, with an efficient bumper repair kit, you can repair all the dents and scratches yourself and at home.
There are several different bumper repair kits available at a budget-friendly price in the market. Many contain essential tools you need to fit it perfectly.
So here is a quick review of a few high-rated professional-grade bumper repair kits that will make the daunting challenge of fixing the bumper quick and easy.
The buying guide will also help you make a better decision to buy a reasonable repair kit, so scroll down and check out the best available bumper repairing tools in the market.
Best Overall
Isopon Bumper Filler Box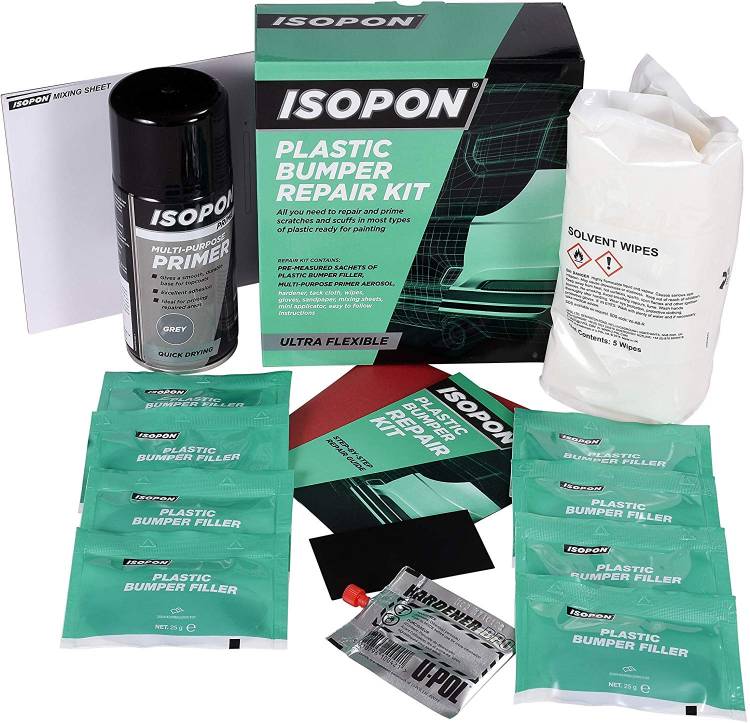 ISOPON is a renowned name and a pioneer in automotive repairing products. Its Bumper Filler Box is highly suitable for plastic bumpers and fixes all the scratches and scuffs with a perfect finish.
The pack contains four premeasured bumper filler packets, one hardener packet, and an applicator for exceptional adhesion. The premeasured sachets are easy to use. You just have to mix them to make a perfect repairing formula.
The filler is highly adhesive, and it can easily be sanded and repainted. Moreover, it can easily shape up like a bumper contour.
It gives quick and professional repair. It is straightforward to use and made with a high-quality formula offering extraordinary adhesion that gives a smooth finish to your car's bumper.
What We Liked The Most
The best part of the ISOPON Bumper Filler Box is the easy-to-use formula. With premeasured packets for easy mixing with a fine applicator, it is a go-to choice for all DIY enthusiasts.
Pros:
It is easy-to-use
It has a quick setting time
Affordable price
The filler is highly adhesive
The repairs can easily be sanded and repainted
High-quality formula
It gives a smooth finish
Cons:
It does not contain a primer and sandpaper
It is highly adhesive due to which it is challenging to remove if required
ATG Bumper Repair Kit
Now your regular bumper damages are not the problem anymore. With an ATG bumper repair kit, you can quickly repair dents or holes.
The kit is versatile and provides excellent value for repairing plastic bumpers, moldings, cladding, panels, and attachments. It can be used multiple times to remove cracks and holes on the surface.
This kit can be used multiple times. It contains eight pieces, including rubber gloves, repair compound, alcohol cleaning cloth, sandpaper, spatula, metal scraper, a black color tube, and one sponge. It is a versatile kit that can also be used for other home repairs as well.
The kit is quite affordable, and it saves you a lot of money that you may spend on repairing the bumper. The formula is environmentally friendly, and it is harmless to humans. You can fix your car yourself at the convenience of your garage.
What I Liked The Most
The kit comes with a pair of rubber gloves, a repair compound, a cleaning cloth, grit sandpaper, one tube of black color, a spatula, sponge, and a scrapper providing a complete automotive repair solution.
Pros:
It has a reasonable price
High-quality, environmentally friendly product
It is Versatile
Do-it-yourself formula
It is a complete repairing kit
It can be used 8-9 times
Cons:
It does not work well to remove scratches
It can cover only 8-10 holes
3m Scratch & Scuff Removal Kit
The 3M repair kit is a complete solution to remove scratches from your bumper. It is exclusively formulated to give back a new shine. The kit includes the 3M applicator and abrasives that are easy to use, and you do not need any other tool to repair your bumper.
The formula is fast and easy to use, and it costs you very little compared to spending money on expensive replacements. It is a complete repairing kit that includes a 3M rubbing compound, 3M scratch remover, a foam pad, and a 3000 grit abrasive square.
The kit comes with an instruction manual that gives comprehensive directions about using the kit to restore the car's shine.
The 3M scratch and scuff removal kit is armed with an upgraded technology that produces effective abrasives. The abrasive is contains aluminum oxide that removes the stains and scuffs quickly.
You just need to apply the rubbing compound and rub the affected area with the scratch remover. You can see the difference in a few minutes. The kit is safe to be used on any paint.
What We Liked The Most
The kit gives you high shine and glosses, saving you money from expensive body works. It is handy and easy to use for any car.
Pros:
It provides a glossy look
Affordable
A quick and convenient solution
It removes scruff and scratches effectively
Safe and efficient
Armed with a very intuitive technology
Cons:
The scratches are lightened but sometimes not eliminated if deeper
Quixx 00070-us Paint Scratch Remover Kit
The QUIXX high-quality scratch remover works with most cars. This fantastic kit features two polish tubes, one polishing cloth, and strip sandpaper to assist in the bumper polishing. It offers a super-quick process that takes just two steps to polish your car.
In the first step, you will have to apply the compound on the paint, while the second step restores the car's finish as a new car. However, the kit is not compatible with the ceramic paint coat, nano paint, or matte paint.
Also, it is color-compatible. It is suitable for the bumper of any color for a variety of brands and models. It utilizes a German technology that is known as Plastic Deformation.
This Technology works effectively on the paint and removes the scratches quickly and safely.
What We Liked The Most
The kit can be used for all parts of the car and yet maintain a perfect finish.
Pros:
Excellent at removing bad scratches
Affordable price
It is a complete polishing solution
Suitable for all car models
It does not damage the vehicle's finish
The kit utilizes German Technology that works quickly and safely on the paint
It is suitable for all paint colors
Cons:
It is not compatible with certain paint types
It does not work on the deep scratches
Turtle Wax 50734 Polishing & Scratch Kit
Do you want a versatile kit that not only offers an excellent polishing solution but also repairs the deadly scratches on your bumper's surface?
If Yes, then Turtle Wax 50734 is for you. The kit contains six items, including a polishing compound, a rubbing compound, Foam applicators, and a cleaning towel. The towels are washable, and they can be used many times. They are used to apply the compounds perfectly.
Use the towel and the foam applicator together to get the perfect results.
Turtle wax 50734 polishing and scratch kit offers a potent formula to remove corrosion and swirl marks. The kit includes a polishing compound and a rubbing compound that restores your car's paint shining like a brand new car.
You start with a polishing compound if the car does not have many imperfections. However, if the paint still does not look good, then you should apply the rubbing compound. Both formulas have very high quality and deliver a professional result.
However, there are certain steps you should perform to get the required results. Before applying the compound, you must ensure that the car's surface is clean and free of dirt. The formulas are quick, safe, and silicone-free.
What We Liked The Most
It is formulated with ingredients and lubricants that remove tough scratches and restores paint's life.
Pros:
It Increases paint life
A complete bumper repair kit
Affordable price
It Removes tough scuffs
Cons:
The polish may fade with time
Bondo Bumper Repair Kit
If you want a complete kit to restore the bumper like new, then Bondo Bumper repair kit is all you need. It saves you the cost of replacing the bumper and offers professional results.
It fulfills both epoxy and filling functions. This repair kit mends those areas which are unable to be repaired by the hard fillers. The kit includes mesh and a plastic spreader.
It is a professional-grade kit used by most car owners who want to redo the bumper work themselves. It is easy to use and contains a syringe dispenser.
This syringe dispenser contains both epoxy and hardener, which can be used only one time. The epoxy and hardener are not pre-mixed. You will have to mix them by pressing the plunger. Apply the epoxy at the cracks of the bumper or the bumper cover and see the miraculous result only in 6 minutes.
This formula can be used as a filler to fill a large hole. Fill the holes by using the mesh and spreader that come in the kit. The kit ensures fast and reliable repairs that give your bumper an original look. The repairs are sandable and paintable.
Bondo Repair kit is formulated with a 3M technology that makes the repair quick, durable, and cheap.
What I Liked The Most
It is a two one formula that works not only as a hardener but also fills the large wholes on the bumper. It gives restores your bumper's finish like new.
Pros:
Reasonable price
The repairs are sandable and paintable
It works both as a filler and hardener
It is very versatile
Fast and durable result
It utilizes 3M Technology
Cons:
The epoxy is less in quantity if you want to make large repairs
The epoxy is very sticky, and you cannot remove it easily
Bumper repair kits offer handy and yet affordable solutions to car owners looking to revamp and renew their cars.
The solution bumper kits offer hassle-free, DIY, and affordable. Most of them work with multiple car types and are multipurpose. If you are looking for a quick fix for scratches, holes and regular glossing for your car and bumper, we recommend you to check one of these above.
There are diversified versions of bumper repair kits available in the market. Look through some of the best-sellers we have reviewed above and chosen the one that best fits your needs.
FAQ
What Does The Bumper Repair Kits Do?
The repair kits can perform several functions to pamper your car. It includes polishing to give your car surface a new and glossy look. The scratch removers eliminate tough scuffs from the surface while the fillers fill cracks and holes.
How Much Does The Bumper Repair Kit Cost?
Some bumper repair kits might be pricey but offers great value for the money.
A repair kit offers a reasonable alternative for high replacement costs, as the replacement of different car parts. A simple polish kit starts at $6 that offers great value for money.
What Does The Repair Kits Contain?
The repair kits usually contain the tools to repair the car's imperfections.
It may contain a cleaning cloth, a brush, a scraper, the polishing substance, fillers, or abrasives. Different kits perform different functions. So, the tool is included according to their function.
What Are Professional Bumper Repair Kits?
There are two types of bumper repair kits available in the market, i.e., DIY bumper repair kits and professional bumper repair kits. If you choose one for the tough scratches and scuffs, then professional bumper repair kits are suitable for you.
Some car owners like to maintain their cars at the convenience of their home. In that case, DIY bumper repair kits are a reasonable choice.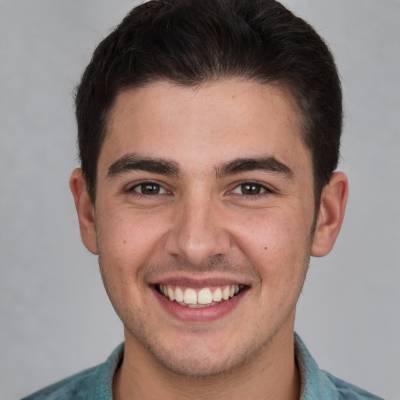 Kevin has been hanging around cars and automobile magazines since he knew what a car is. He grew up in his father's 1995 Mercedes E320 Wagon and Volkwagon Phaeton W12 2004. He rides his first car, a manual 1979 Porche 911SC.
Currently, he owns an Acura Integra GS-R. During his childhood, he showed a keen interest in how things actually work and fix them. This passion transforms into his eternal love for cars and bestows him an ideal position in one of the leading automobile companies; whenever he finds time, he takes out his Acura and opts for the longest possible route to find hidden wholesome pleasure in a road trip.
Want to read some of the articles written by Kevin? Head to our blog section to find out all the articles written by Kevin.