Hot weather is like poison to car batteries – they usually don't do well with the heat. If you are not careful in selecting the right one for harsh weather, you will spend lots of money on changing batteries because of corrosion.
A car battery doesn't do well in the heat because it melts the chemicals in the battery cell, and these chemicals in liquid form dry up.
And when a car is running with an empty battery cell, the damage would occur. You would not only spend money changing the battery, but you would lose money by replacing the damaged internal parts.
Therefore, it is essential to get batteries that withstand the heat and can last. Especially for our readers, we have prepared a list of the best batteries for hot weather.
7 Best Batteries For Hot Weather
Best Overall
1. Optima Batteries 8003-151 34r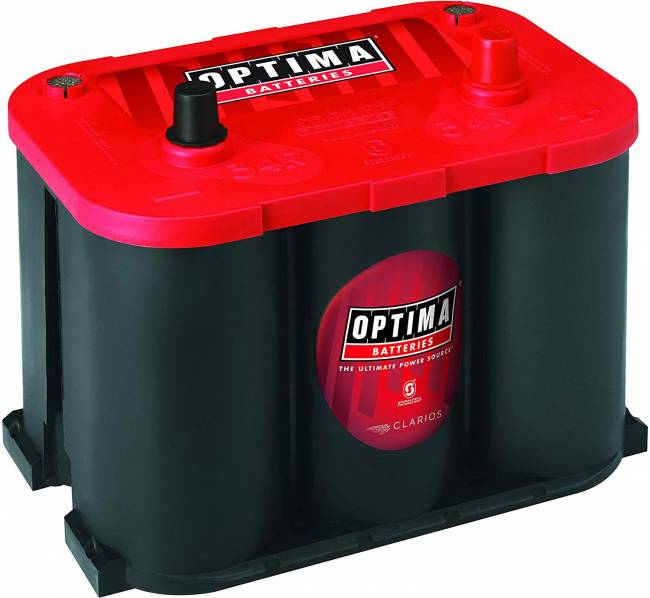 Optima products do well under demanding conditions. This product has about 100 minutes of Reserved capacity – one of the highest out there.
With it, you are confident that your car wouldn't stop on the roadside out of the blue. This product is excellent for anyone who wants a reliable and high-performing battery.
One thing you'd enjoy with this product is its starting burst. The car comes on as you start it, unlike other cells. Its 12 Volts batteries ensure that you use this product for a long time.
There's a 15x vibration resistance thanks to its sealed design–sort of like a shock absorber. Your batteries would be safe in the engine without their content spilling or falling over.
We also love this product because it is maintenance-free. You don't need to spend extra money going to the mechanics to do any maintenance. This product has got you covered.
This battery is great for trucks, SUVs, and streetcars. It is a heavy-duty battery with a CCA of 800. The Optima Batteries come in 3 colors—Blue, Yellow, and Red. Each one with a particular engine preference.
The Bluetop—is a starting battery. Its sole duty is for starting engines. You can use it for a marine or SUV.
The Yellowtop—is used when the electrical loads are higher than average such as vehicles with multiple electronic accessories and vehicles without alternators.
Examples of engines that need the Yellowtop battery are racing cars with no charging systems, drag race cars, diesel-powered vehicles with aftermarket electronics, and vehicles with inverters or winches.
The Redtop is used for conventional engines with an alternator that provides power to the battery when needed. This battery can withstand critical weather conditions and temperature. You can rely on this battery if you stay in warmer areas.
Pros:
The Reserve Capacity gives in 100 minutes of backup power.

15 times more Vibration Resistant than other batteries.

Maintenance-free.

Excellent for hot weathers

Fast Recharge

It is well-sealed. So, you wouldn't need to worry about spillage.

Strong Starting Burst

12V battery, which means it would last long

It is AGM
Cons:
A charge holding might decrease in quality if the battery gets drained.

May not fit into smaller cars.

Some people have complained that it doesn't last as long as it is stated to be.
2. Acdelco Acdb24r Car Battery
We love this product because of its Reserved Capacity. It is an AGM battery, so you would enjoy it because of the high quality it possesses. It is maintenance-free, so you would save yourself from the stress of putting water in the engine often.
Its design ensures that there are no corrosion and battery spillage, thanks to its valve-regulated technology. The battery capacity is awe-inspiring, packing 12 volts.
The price is another factor. It is very affordable and is great for people who are looking for something on a budget. The valve-regulated gas recombinant technology makes it safe, with a longer life-span than other batteries out there.
We listed this product here because it can last in all seasons. It can withstand harsh conditions. Heat would not do this product damage or cause it to corrode. It is calcium positive, negative combined with antimony flooded technology.
The ACDelco ACDB24R comes with High Plate Density Oxide, which provides maximum power-per-pound, which increases its high cycling services.
There's a 24 months warranty that comes with buying this product. This would give you the confidence that the manufacturers have you in mind.
Above all, you would enjoy this product because of its quality, safety, and assurance.
Pros:
Pocket-Friendly

Spill-Proof

Long-Lasting

Maintenance-free

AGM technology

12 Volts

Valve Regulated Technology makes it safe and long-lasting

Great for warm and cold weathers

Two years warranty
Cons:
3. Diehard 38188 Group 34r Lead_acid_battery
With this product, you would see the real meaning of 'long-lasting.' Diehard products don't die easily. They are there for you in the long-haul.
They are great for hot weather. You can mount this battery in any position in the engine, but there won't be any spillage because of its well-sealed body.
These batteries are maintenance-free. Putting in water from time to time to keep it going is not needed. It has 120 minutes of Reserve Capacity, allowing you about 2 hours' drive before the car's voltage drops completely.
The Diehard has a 55 AH rating and a 775 CCA, indicating its high performance. Its 2X life cycle extends battery life and performance.
This battery can fit into many cars—local and foreign, including; Audi, BMW, Chrysler, Jaguar, Mercedes Benz, Mini, Porsche, Saab, Volkswagen, and Volvo. So, no need to be afraid of it not fitting when you get one online.
The vibration resistance on this battery is very impressive. From a study, the Diehard battery has 20 times more vibration resistance than other battery types.
It has an Enhanced electrolyte suspension system that absorbs more electrolytes and protects internal components. Its optimized power full-frame positive and negative plates prevent life robbing electrical shorts for increased safety.
You can use this battery with RVs, trucks, performance trucks, tuner cars, and off-road vehicles. This product gives you everything extra: Extra battery-life, safety, and peace of mind.
Pros:
AGM Batteries

Long-lasting

2X battery life

120 minutes Reserved Capacity

Maintenance-free

Shock-proof

Shield for internal components

Spill-proof

The enhanced electrolyte suspension system
Cons:
4. Odyssey 35-pc1400t Automotive And Ltv Battery

Check Price on Amazon
This battery is in the premium range. It gives you everything you need in quality. The Odyssey battery is the best you will see in the market. It has the highest recharge speed of every other product in the market. You get a full charge in 4-6hours.
It also has the best life cycle of 3-10years. You save money, time, and stress.
The Odyssey has a longer cycle life compared to other deep cycle batteries. If you're out of town and are not looking to use your car, you would meet your battery in good condition when you come back. Odyssey batteries have a longer shelf life than other batteries.
Your safety is also factored in, and it was designed not to spill. Everything is sealed tight. So, you're free from gas and acid spills. Gone are those days when you have to add water regularly to maintain your battery. With the Odyssey, everything is done for you.
Battery failures happen when there's an external shock. This battery has corrected that problem with the inclusion of the shock-resist feature. You would enjoy this product in bad weather because it was created for these challenging conditions.
You would experience an increase in your car performance because it has plates made of pure virgin lead: the more the plates, the better the performance. The Reserve capacity is the highest on this list at 135 minutes.
Odyssey 35 is the overall best battery because of how reliable and robust it is
Pros:
High Performance

Shock-resistant

Spill-proof

135 minutes of Reserved Capacity

Long Battery life

3-10years life cycle

Maintenance-free

Quick Recharge
Cons:
You can damage the battery if you don't charge it the right way.

Not suitable for every car.
5. Bosch S6521b S6 Flat Plate AGM Battery

Check Price on Amazon
We love this battery because it charges fast. The battery recharges faster, even under extreme conditions like hot and cold climates. This battery was built for durability and sustainability. It can handle up to 8X as many charge/discharge cycles and provide reliable starting even in extreme hot and cold climates.
It has a 770 CCA and a Reserved Capacity of 120 minutes, all created for better performance.
The Bosch was designed to be spill-proof. So, you can keep this battery in any position, and nothing would go wrong. It is maintenance-free, so the days of putting in water to maintain batteries are long gone.
This Bosch Battery has a unique technology called Energy Life technology. This makes the battery last longer than other batteries. This battery would hardly experience corrosion or develop any issues. The manufacturers made this possible with its 4-year warranty. And in case you get stranded on the road, Bosch offers its customers roadside assistance. All these are to ensure that their customers get the best treatment.
This battery has a capacity of 12 volts and weighs 44.9 pounds. It is vibration proof, so you wouldn't have to worry about any damages when there's an external shock.
Pros:
Fast Charging.

Longer battery life than regular batteries.

120 minutes of Reserved Capacity and 775 CCA.

12 Volts.

Roadside Assistance.

Maintenance-free.

Starting power makes it work well in extreme weather conditions.

4 years warranty.
Cons:
A bit pricey

Heavy

May not fit into all cars
6. Exide Edge Fp-agm34 Flat Plate AGM Sealed Automotive Battery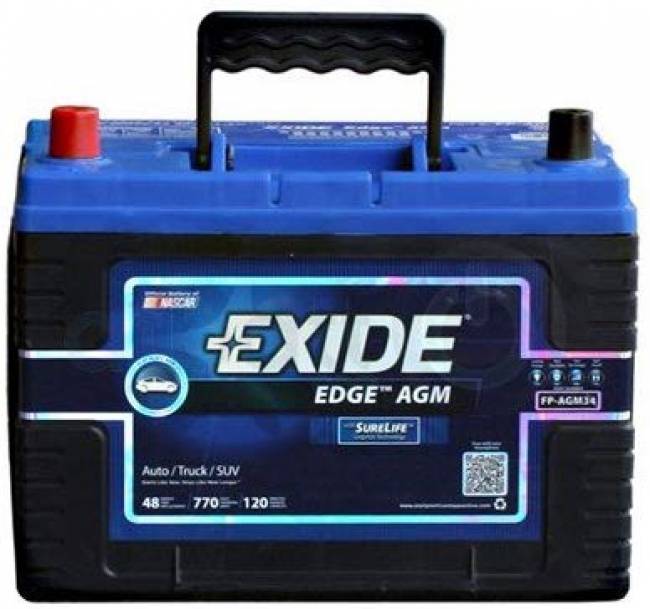 This battery isn't the best on this list, but where it thrives is in its Reserved Capacity. It has an RC of 120 minutes. Which gives you 2 hours' drive before it kicks the bucket.
Its small footprint is another point in its favor, which means it can fit into different cars. This is the right choice if you drive a larger vehicle that demands more juice.
The Exide outperforms conventional batteries across life tests including, heavy use stop-and-go traffic with high electrical demands.
All the products listed so far were maintenance-free; The Exide is not an exception. You don't have to worry about putting in water for better performance anymore. Everything would work correctly in the long-run.
There's a 4-year warranty that gives you rest of mind as long as you use it. It can handle anything you throw at it. It is a 12 volts battery about a bit weighty at 45.9 pounds.
Thanks to its design, you are sure that there won't be any spillage that may damage your car's internal parts.
This battery is excellent in hot and cold weather because of high CCA and RC.
Pros:
120 Minutes Reserved Capacity

Spill-Proof

Maintenance-free

Long-lasting batteries

Compact design

Improved electrical efficiency

It has a 770C CA
Cons:
The battery is heavy

It is quite expensive
Best Value
7. Mighty Max Battery Ml35-12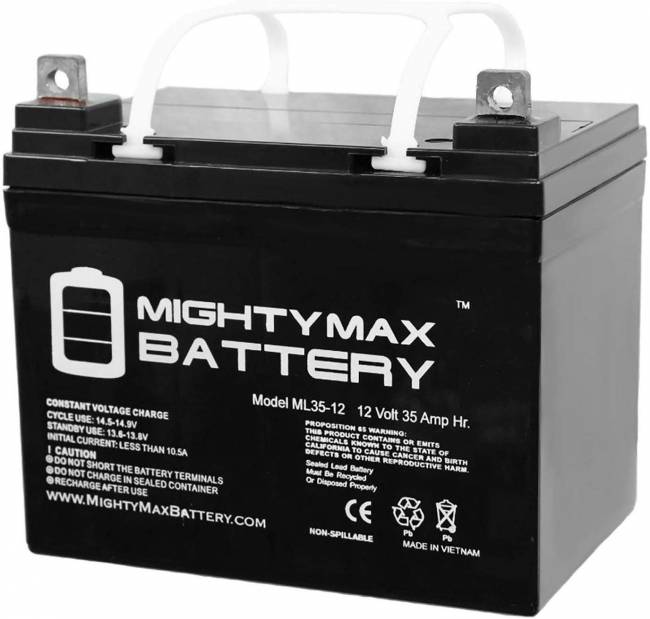 Mighty Max batteries are some of the best quality batteries out there. We love this product because of its high performance.
It has a Reserved capacity of 120 minutes, giving you enough time to get a new battery to avoid getting stranded on the roadside. This 12V Mighty Max battery is not an automotive battery. Hence, it is rated in AH instead of CCA.
It is sealed properly to avoid corrosion or leakage. It has vents in case gases get released accidentally by overcharging. The Mighty Max is an AGM battery, which frees you from corrosion. Meaning they would last longer.
The Rechargeable battery resists external shocks that can cause severe damages to our car engine. Getting this battery is a safe choice.
If you are looking for a maintenance-free option, then you should check this product out. The Mighty Max works in harsh conditions—warm or cold. Our favorite feature of this product is the solar rechargeable battery.
They charge 5X faster than regular batteries. You shouldn't worry about the batteries discharging when you don't use it for a long time.
Its compact footprints make it a perfect choice for golf carts, trolling motors, portable medical devices, etc.
Pros:
Spill-proof.

Maintenance-free.

Solar charging.

Pocket-Friendly.

Fast Charging.

Shock-proof.

Excellent for warm and cold temperatures.
Cons:
Just 30 days warranty given.

No wire harness or mounting accessories included.
Choosing Car Baterry For Hot Weather – Factors To Consider
Many people don't know that heat reduces the life span of a battery. It could be that their mechanics don't want to tell them the truth, so they can keep coming back for repairs, or they don't consider the quality of batteries before getting a new one.
The next time you decide to get a new battery, here are factors to consider;
The climate of where you reside.

There are great car batteries for cold climates, while some others are excellent for the warm weather. This is one reason why many people have issues with their batteries because they go out and get anyone without checking on the type of cell it is.
Level of maintenance.

Batteries usually come in two forms; The one that needs support and servicing (water) and the maintenance-free counterpart. Although the maintenance-free cells would be more expensive, the stress it saves you from is worth it.
Capacity.

You need to get familiar with; Cold Cranking Amps (CCA) and Reserve Capacity (RC). They are standards that battery companies use to measure the capacity and output of batteries.
The battery's CCA should always match the standards of the car. The Reserve Capacity (RC) of any battery should be in a reasonable amount. This would save your car from breaking down in the middle of the road, keeping you stranded. With suitable Reserve Capacity, you can manage to take your vehicle to a nearby mechanic to get a new one when there's a failure.
State of the battery; New or used.

We don't support used or fairly used batteries because of its life expectancy and corrosion. When you buy a used battery, you may not use it for long because of corrosion. Corrosion is those yellowish or greenish colors around the terminal. The used-battery seller may try to convince you that there's a warranty and it has been tested. But you shouldn't waste your time and money because a brand-new battery is your safest choice.
Warranty.

When you want to buy a battery, ask if there's a warranty. This would not only give you rest of mind on the quality, but you'd have the assurance that if anything goes wrong, you can return the battery for a new one.
AGM Batteries. AGM means Absorbed Glass Mat. These types of batteries are the best in the market. If you want to get a battery that wouldn't give you trouble, this is it.
Best Car Battery For Hot Weather – Frequently Asked Questions
How Does Heat Affect My Car Batteries?
The heat melts the battery's chemicals and dries it up. Just as we humans get dehydrated when the sun gets hot. So do our cars. Heat weakens your car batteries, making many the car breakdown on the roadside without any warning.
Another effect is corrosion. When you start to see yellow or green stains near the battery's terminal, then you know the battery needs to be replaced.  Corrosion happens to all old batteries, but heat speeds it up.
How Do I Know When My Car Battery Is Failing?
It is essential to know when your car battery can get a replacement, and you don't get stranded on the roadside. But the main indication is when your battery is above 4 years.
Batteries tend to last about 3-5years. So, when it gets to that age, consider keeping a new one around.
Follow these points to know when it's time to change your battery:
Your headlights aren't bright anymore.

It struggles to start in the morning.

Your batteries look swollen.

The liquid level gets low

The check engine light blinks

The battery terminals are corroded.

Rotten smell means that there's a battery leakage.
Why Is It Important To Get High-quality Batteries?
Whether you like it or not, nothing beats quality. Quality saves you from the stress of replacing your batteries every day.
Good batteries are an investment that you wouldn't regret. Though they cost more, it's worth it.
How Do I Maintain My Car Battery When There Is Heat?
Everything lasts longer when you maintain it properly. So, here are some tips to help your car last longer;
Don't park directly under sunlight. This is why people park their cars in garages.

Don't use the radio while the engine is off.

Turn off all the lights when you leave your vehicle. Doublecheck always!

Try to clean the battery terminals from time to time. Use rags, old toothbrushes, Water, and baking soda. Dirt weakens the battery.

Charge the batteries often if you don't use it regularly because the heat may weaken the battery when you're not using it too.

Don't plug your phone in the car to charge it.

Get a battery that matches the car's requirements.
Why Should I Buy AGM Batteries?
AGM batteries are your best bet. Its quality is superior to every other car battery out there. These batteries hardly leak and can hold their content inside—reducing corrosion. Here are some reasons you should consider an AGM battery.
They have a sizeable cold start current.

What does this mean? There are some cars that, when you turn them off and on, they would have problems restarting. But with AGM batteries, there's cycle stability that makes it easy for you to restart your car without any issues.

High Reserve Capacity.

AGM batteries have a higher reserve capacity than other battery types. Some of these batteries give you up to 100 minutes of extra battery life.

Charging.

AGM batteries have two sources of power when it charges. It can get power from a generator or and a braking energy recovery system. AGM batteries give you more power.
What Is The Life Span Of A Car Battery?
On average, a car battery lasts four years. But batteries vary. Some factors that determine a battery's life span are the product brand and usage.
What Makes Your Car Battery Drain Faster?
Your battery drains faster in the hot weather. Other factors may be leaving the electronics in the car like an air conditioner on for long.
What Is The Liquid Inside The Car Battery?
The battery electrolyte is a combination of sulfuric acid and water. The concentration of acid depends on the state of charge of the battery–the lower the battery, the lower the sulfuric acid.
At What Voltage Is A Car Battery Fully Discharged?
You can tell that a car battery is empty when it has less than 10V. When it gets to this point, it is clear that the battery is damaged because there's little energy between 0V and 10V.
Do You Need To Charge A New Car Battery?
A new car battery doesn't need to be charged. There's plenty of juice in it to run as it is. But there's no harm in charging it.
What Makes Your Battery Die Unexpectedly?
Various reasons that can cause this to happen:
Human Error

. These errors may be leaving the headlights or interior lights on. Many times we naturally forget to turn off these, and when we come back to the car the following morning, the battery would be flat.

Undercharging

.

Sometimes, there may be a fault from the car's charging system, and there isn't enough charge supplied to the battery from the vehicle. At this point, you should visit the mechanic.

Parasitic drain

.

This is common for parts of the vehicle that continues to work while the car is turned off, such as alarm systems, dashcams, etc. They kill your battery over time.

Driving Habits

.

Cars that you don't drive often would surely develop battery issues.

Battery age

.

When your battery gets old, it will become harder for it to hold a charge. Check if you've used it for more than four years. If yes, then it is time for a new one.
All these are things you may or may not have control over. But the points listed are the major causes.
Conclusion
You must have seen by now how dangerous the weather can be to our battery and your car. When selecting a car battery, you have to pay attention to a lot of things. The age, the capacity, and above all, the weather it works best in.
This would make your time using the car battery easy.
An added thing to note is that every problem that happens is not because of your battery. Don't change your battery every month because you have read this post. Just get a solid one, and you're good to go. The average life span of any new battery is 4 years. So, not every problem your car develops is your car's fault.
Patrick started his love affair with cars in his childhood. Over the years, he claims a sturdy hold on his driving skills, along with a thorough understanding of cars. We can expect some interesting, holistic, and pleasurable blogs with his flair for writing and his love for cars.
Being a car enthusiast, Patrick has experience comprising of two decades in which he has ridden some of the meanest and strongest machines in the automotive industry. His previous avatars include an automotive professional, photographer, and journalist, and you will certainly experience the roundness of experience in his piece on this site.
In his second decade of reviewing cars and analyzing tools, Patrick is all set to give you convincing, reliable, and the latest information regarding what's happening in the automotive industry. Currently, he owns a BMW Z3 but cannot get his eyes off Aston Martin DB5. He is a car enthusiast; he loves cooking and listening to music, especially jazz. Here are some of the pieces written by our ace author.