Having a car lockout kit by your side can save you from a lot of trouble. Many of us have locked the keys inside the car at some point in our lives.
These are the times when having a car lockout kit saves your time and money. Going to professionals is pricey and time-consuming.
And not just that, if you are a locksmith or own a garage, you would also have a lot of jobs related to unlocking cars or other automobiles without keys.
A car lockout kit would help you to unlock the car in less time without damaging it.
So if you are looking for the best car lockout kits, go nowhere. We have compiled this article to inform you all about car lockout kits.
Why do you need one? How to use it? And how to choose the best that serves the purpose?
Let's take a look at some of the best options in the market, so you can choose the one that fits your budget and seems most promising.
Best Overall
SUNTUE Car Kit with Long Reach Grabber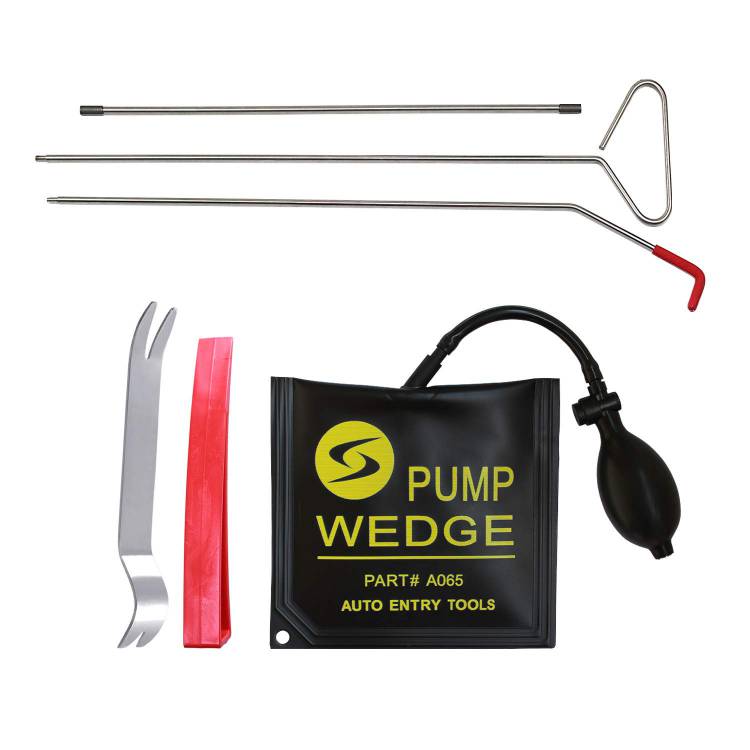 What We Liked Most About This Product
The best thing about this car lockout kit is that it can be used for multiple purposes.
Not only is it perfect for unlocking your car in an emergency, but you can use its universal tools to align or open windows, doors at home too.
Product Overview
Here is a professional-grade lockout kit that you would always want by your side. The kit features all the essential tools for unlocking the car safely.
It comes with a 49 inch long reach Graber for picking up the lock. Stainless steel Graber is sturdy but light enough so that you can handle it easily.
For inserting an opening in the car door, the kit provides a quality air wedge bag. The airbag is made of high-quality TPU material that won't tear with the pressure that can bear 0.026 MPA.
For protecting the windows and doors of your automobile, the kit provides a non-marring wedge. It helps you keep the door slightly open, so you can insert the Long Garber inside without damaging the rubber, paint, or any other part.
The package includes pry tools, a knob grabber, and a short grabber as well, so it pretty much covers you completely to make the job easier for you.
The kit comes with a complete money-back guarantee, so you can have a full refund if it fails you.
Pros:
A complete lockout kit.
It comes with universal tools.
The quality material of tools makes them durable.
Rubber wedge for protecting your car.
Money-back guarantee.
Cons:
Quality could have been better.
TSafe Essentials Kit- Long Reach Grabber
What We Liked About the Product
What we like in Tsafe essential kit is the precision with which it's made. Their tools are constructed perfectly and designed explicitly for unlocking the cars at a rush hour.
Product Overview
It's a fantastic tool kit that comes with everything you might need for a lockout situation. The kit has a 52 inches long Reach Grabber that helps you reach the car lock safely without much hassle.
For keeping the door open, there is a high-quality air wedge bag. The bag provides maximum expansion to make the job easier for you.
The kit has a non-marring wedge that prevents damage to the outer body or inside the car door's rubber. The tools help you not only unlock the door, but you can wind down the windowpane as well.
The kit comes at a very reasonable price compared to the cost professional help incur.
Pros:
A budget-friendly kit.
It features all the essential tools.
The air wedge allows maximum expansion.
No damage to the car.
Comes in an easy-to-carry bag.
Cons:
The kit has limited tools. Probably more suitable for personal than professional use.
AGPTEK Full

Professional

Kit with Long Reach Grabber
What We Liked In This Product
AGPTEK just make your job easy. The diversity of tools provided suits all types of individual needs. That makes it a leading name in the industry.
Product Review
AGPTEX Full Professional Kit provides everything you need for the unlocking.
The kit includes professional tools to cope up with any situation. All tools have optimized sizes, so you can make the maximum use of them. They are packed neatly and come in an easy-to-carry and store bag.
Its long reach grabber is made of high-quality material. A solid construction won't bend so that you can aim at the lock accurately. The quality of steel makes these tools long-lasting.
It comes with special threaded connectors that solve the problem of a long loose reach grabber that is difficult to handle.
The kit includes not just one but two air wedge bags in different sizes.
The professional kit features five pieces of the non-marring wedge so you can open even the massive or complicated doors.
The package induces a lot of nuts and skewers that help solve other issues. Overall, it's a complete professional tool kit that covers you completely.
Pros:
A complete kit with a variety of tools.
Long reach grabber comes with connectors so it won't get loose.
The precise construction of tools.
Offers two sizes of airbag wedges.
Five small big non-marring wedges.
Cons:
A little too much for personal use
Full Professional Kit – Easy Entry Long Reach Grabber with Air Wedge
What We Like In This Product
What we like about this Professional Kit is the length of its long-reach tools, unlike other kits that offer a limited grabber length.
Product Review
The Kit by Now Rabbit comes with easy solutions, and you can work as a professional with these right tools. With 72″ long tools, you can work or automobiles like trucks, vans, buses, and cars.
With its high-grade air wedge pump, there is no chance of chipping off the paint of your precious car.
There's a grabbing device, which can be used as a loop for holding and pulling on knobs. The package includes a pair of green wedges that will help you reach the car lock easily.
Pros:
It comes with a very long reach grabber.
It provides a short grabber tool as well.
Comes in an easy-to-carry bag.
It offers a high-grade wedge pump.
Durable tools.
Cons:
Non-marring wedges seem a bit small.
TSafe Full Professional Kit
What We Like About This Product
TSafe Professional Kit comes organized in a very decent-looking case. It is easy to store; all your tools are in one place and ready to use when you need them in an emergency.
Product Review
This one by TSafe is a professional kit and comes with everything you might want to use while finding a car lockout solution.
It includes a 52 inches long reach grabber. The good thing is that you get an extension as well, so if the grabber still can't reach the lock inside, you can extend it.
It offers a shorter grabber as well. The tools are constructed with high-quality steel that is strong enough to stay in shape, yet it is light and has a good grip for handling the task.
With two non-marring wedges, it features a pry tool that makes your job easier.
The comprehensive kit includes a knob grabber as well. The air pump wedge is also powerful enough and keeps the door open where other pumps might not work smoothly.
Pros:
It comes with high-quality steel tools.
An extension tool to reach the knob or lock easily.
Knob grabber for quick access.
Comes with an easy-to-carry bag.
Cons:
The case seems to be made of cheap material.
AMOSTBY Full Professional Car Kit
What We About the Product
What we like about Amostby is the quality of their products made for serious consumers. The fine craftsmanship with which the tools are made distinguishes them from other brands.
Product Overview
This one also features a 51 inches long grabber, which can be attached with a 24″ extension tool. So, you can have a total grab length of 75″.
The high-grade wedge pump is made of high-quality TPU material. The air wedge pump does not create any scratches on the paint of the car door.
The cat lockout kit is excellent for all vehicle types. If you own more than one car, or if you are a professional locksmith, then you don't have to buy multiple kits for various makes and models.
All tools are designed to stay useful for a long. The quality material used in their making won't rust or degrade with time. The thickened diameter of tools gives you a better grip, and they won't bend easily.
Overall, it's a complete package with knob grabbing loops, rubber wedges, and extension tools.
Pros:
Quality tools.
The thick diameter of tools.
Useful for all types of vehicles.
Reasonable price.
Designed for professionals.
Cons:
Buying Guide for Car Lockout Kit
Buying a car lockout kit may seem confusing if you are not an expert in this field and know little about unlocking tools. Not only do you need to know what type of tools is essential, but you also understand how to use each. Here is a complete list of things you should consider while buying a car lockout kit.
Number of tools
The number of tools differs in various car lockout kits. It depends on whether you choose just a kit of some essential tools or buy a complete set of professional equipment.
A professional kit will come with too many tools and different sizes to suit the varying nature of jobs. Some of the tools you need for dealing with a car lockout are:
Long Reach Grabber
It is the primary tool you would use for unlocking the system. The grabber is a thin and long tool that you would insert in places where you can't reach, such as inside the door's slight opening. It should be long enough to reach the lock inside.
Some kits provide an extension with the long reach tool so you can reach the deep inside to the lock without much effort. So the length of reach should be the determining factor for choosing a kit. It must be long enough to reach inside your car door and reach easily to the doorknob or lock so you can pull it easily.
Air Wedge Pump
The long reach tool cannot go inside the closed door unless you make a small opening through the door. An air wedge pump allows you to make that opening.
Make sure the kit you select has a good quality air pump. It should be made with good quality TPU material so that it won't leave any scratches or peel off any paint on your door.
The air pump should also be powerful enough to bear the weight of the door.
Non-Marring Wedges
Once you make the small entrance between the car door for the long reach tool, you can insert these non-marring wedges inside the tool, so it remains open, and you can work your way through the knob or lock of the car.
Knob grabber
A knob grabber is used with a long-reach tool to grab the knob or lock easily. It comes with a loop that you can use for hooking into the lock.
Essential kit or Professional Kit
Different lockout kits are available in the market. Some of them are only essential kits that come with the necessary tools you need for unlocking the door. They may have a long reach grabber, an air pump wedge, non-marring wedges, and that's it. These kits are more for personal than professional use.
On the other hand, there are professional tool kits. They are more expensive than the basic kits as they have more tools.
Professional kits contain everything you may or may not need in unlocking the car. You may find two or three kinds of each tool, so you can make use of it for different vehicles like trucks, buses, and many more.
So professional tools include extension tools, small or big air wedge pumps, different types of small and big non-marring wedges, and other screws and tools.
Materials
The material of tools determines their quality to a great extent. Make sure you choose the tools that are made of good quality steel. The light tools made of cheap material will easily bend and are challenging to work with.
Diameter of tools
These tools are designed very thin to reach inside a slight opening. But still, make sure the tools have the right diameter. Very light or extra slim tools will easily bend with slight pressure.
Lightweight with Good Grip
Good quality steel is durable but lightweight at the same time. The tools should be light enough so you can work comfortably and don't fatigue your wrist.
Case for storage
Tools are easy to carry if they are arranged nicely in an easy-to-carry bag. You can store them conveniently too.
Price
Price can be the deciding factor for too many things. If you are looking for a cheap option, you can select a kit with some necessary tools.
Professional kits with a more variety of tools will cost you a bit more. But they offer a better quality of tools as well. We recommend not settling on less for a durable solution and investing in a good kit with quality tools.
FAQ
How to unlock the car with the lockout kit?
You can easily unlock the car yourself if you have specific tools like an air wedge pump or long reach grabber.
Step-by-step procedure:
Start with inserting the air wedge pump inside the car door. You may have to insert it with little effort. Make sure you don't chip off any paint. Once slightly inserted in, you can pump the air so that the door opens up a little more for the non-marring wedges.
Use plastic non-marring wedges to keep the door open. Insert them between the door opening to keep it open. You may need two non-marring wedges for operating inside the car.
Now insert the long reach grabber inside the opening slowly. Make sure you don't push any tools inside forcefully. It should go in smoothly. Using force may damage the rubber sealing around the door.
Once inside, reach for the car knob or lock and slightly push it to the side for opening. It may take several minutes if you are not experienced. But with little practice, you can reach the knob or lock easily.
When the long reach grabber reaches the simple lock, push it towards the outer direction, and it will quickly open the lock.
How can I Prevent Damaging My Car in a Car lockout situation?
Here are some useful tips:
Always keep a spare key that you can access in case of a car lockout. You can keep an extra key safe somewhere under the car in a magnetic box.
Invest in professional tools. Even if you are very careful, you can't avoid car lockout situations. So better be prepared for it.
Don't use force or other tools that are not designed for this job.
Even when using tools like long reach grabber, air wedge pump, or non-marring wedges, don't just push anything in with force. If you use force, it can damage your car's paint or the rubber inside the door. Work your way smoothly. If something refuses to go inside, don't push but find another way of doing it.
Be patient. It will take some time if you are new to all this.
Conclusion
There is always a chance we can lock ourselves out of the car. Calling in the professional help would put a considerable dent on your paychecks.
But you can save money by investing in a car lockout kit.
Make sure you invest in a good quality kit that comes with all the essential tools. You can look for a basic kit if you don't want to spend too much on fancy kits. But it is better not to compromise on the quality of tools. Proper quality tools will be useful for a long time!