We all know the struggle of finding a critical tool for the completion of an urgent task. To avoid this, you must ensure space efficiency and proper organization in your garage.
Although there is no universal strategy for organizing a double car garage, this article will offer various tips and enlightenment on the unused nooks and crannies that could help declutter your garage.
Even better, these garage organization ideas will ensure your safety and prevent accidental tripping and inadvertent cuts from poorly placed equipment. These tips also ensure longer service from your tools because, if placed in dumpy spaces, iron components on tools may rust and thus result in a short-lived service.
Finally, garage organization ensures sufficient light circulation, thus making your garage inhabitable for rodents.
Space Efficiency Tips For Car Garage Organization
1. Looking Up And Around!
Having space in a two-car garage can often prove a challenge. As such, it pays to make minimal use of your floor space to leave ample room for your vehicles.
Among the ways to do this is by installing wall hanging shelves and overhead storages. Wall hanging shelves are ideal for commonly used materials, while roof bins make perfect space for storing seasonal decorations.
By using the space in smart way, you ensure that your cars are parked with ample space between them for easy access and cleaning.
Among the solutions for optimally using ceiling space is installing garage ceiling track storages. However, avoid installing large drawers on the sides as these compromise comfortable parking.
Preferably install drawers higher, thus making maximum use of high-wall spaces. For screws and bits, consider installing magnetic catchalls, thus making for easy organization of metal components.
What We Like About This Idea
Besides ensuring maximum garage floor space, wall storages and ceiling cabinets provide that seasonal items get out of your way, allowing for easy retrieval of essential tools.
2. Assortment And Cataloging
Garage organization is more than just tidiness. It determines the ease of retrieving essential materials and allows for maximum efficiency of your time.
Thus, items that serve a similar purpose must be placed in the same section. For a two-car garage, things should be set as per their use for either model of your vehicles. Some categories to consider are sports, car A supplies, Car B supplies, decorations, and donations.
As a result of this, you can easily retrieve items from your garage and place various items in appropriate sections, thus averting future clutter. Owing to the assortment of tools, you can easily select proper tools for the maintenance of each car without having to juggle through all of them.
What We Like About This Idea
Sorting out your items informs your decisions for space planning, thus ensuring your garage space's appropriate division for optimally accommodating each item.
See Also: Best 6 Garage Pegboards (Review) – How To Keep Your Tools Organized?
3. Rolling Shelves
Shelves can prove space consuming. Besides the shelves' sizes is the necessary mid-shelf space that ensures easy access to items stored on the shelves.
By installing rolling shelves, you maximize your space usage without compromising the retrieval of stored items. However, ensure that you label the shelves accordingly for easier acquisition of items when needed.
Preferably, install the shelves to one side of the garage and leave the other wall free, thus providing a substantial parking space.
What We Like About This Solution
Rolling shelves are more efficient than other shelve designs as they ensure optimal use of space. Even better, rolling shelves are less costly than most storage options as you only require to invest more on wheels.
4. Long-handled Tools Rack
Owing to the limited space, the organization of a double car garage can be a daunting task. However, tools are among the risky elements that comprise your clutter.
Ranging from hoes, mops to rakes and spades, yard tools expose you to many risks of injuries. To avoid this, a tool rack ought to come in handy.
Unlike other storage options, a long-handled tool rack ensures that metal components face the wall and also that handles don't get in your way. Even better, this rack design ensures that metal components are away from dumpiness, thus protects them from rust.
What We Like About This Solution
Besides ensuring your safety, a long-handled tool rack provides that no tools lie on the floor, thus preventing accidental riding over tools.
5. Investing In A Toolbox
When organizing a double car garage, each bit and drive should be placed in its section. While shelves are ideal for more extensive tools, smaller items may clutter your shelves.
To avoid clutter, a toolbox ought to come in handy. When selecting a toolbox, go for one organized in compartments, thus ensuring easy access to each item you need for your tasks.
Preferably settle for plastic or stainless-steel boxes as these can withstand accidental falls without getting dents. Also, these materials are less likely to succumb to rust.
It is advisable for a two-car garage to invest in two separate toolboxes to contain specific tools for either of your vehicles. This makes for time efficiency when you are working on one car without shuffling through all your car spares and tools.
What We Like About This Solution
A toolbox ensures that you account for all elements when going about the organization of your garage. With a toolbox in hand, you can optimize garage space and do away with clutter.
Even better, a toolbox ensures easy portability of your tools without misplacing the little elements for various gadgets.
6. Keep A Label On It
A neat garage does not always imply easy access to necessary items. For this, you need to mark your storage cabinets and bottles properly.
When labeling your storages, use your catalog and order them in order of their purpose. Also, attach tags to holds under various sub-sections, making it easier for other people to access.
What We Like About This Solution
Labels are an inexpensive method to ensure easy tracking of various items within your garage. However, ensure that you have a space for items pending organization, thus avoiding the placement of new objects in improper sections.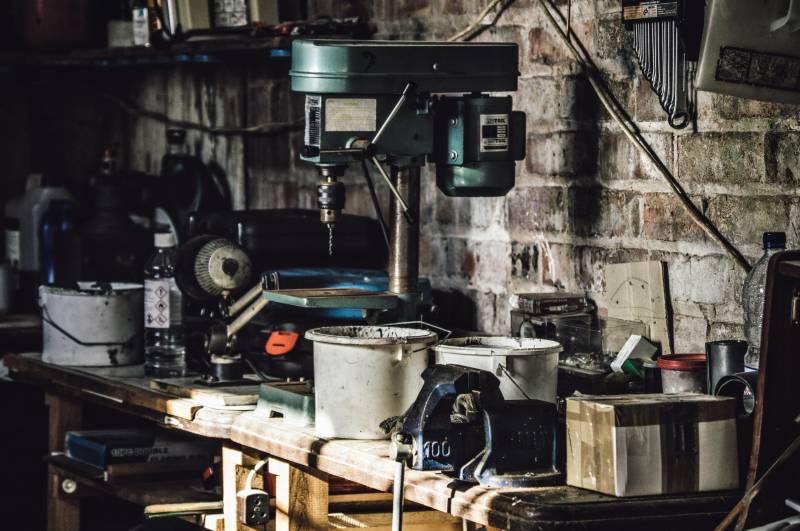 7. Ceiling Rack
Among the smart space solutions for garage storage are celling racks. Unlike other approaches, ceiling racks ensure minimum use of garage space, thus allowing for maximum accommodation.
However, ceiling spacing calls for quality railings that can withstand various loads without failure. Besides accommodating storage baskets, bars can be used for hanging bikes and other accessories, thus optimizing the floor space for two vehicles.
8. Undershelf Bottle Attachment
While shelves are often put under optimal use, the space under each shelf often goes to waste. You should screw lids to each shelf's lower side, thus creating more room for other boxes.
However, these containers should hold light weights as the lids' threads can easily give in and spill the contents in your garage.
9. Install A Foldable Workbench
A workbench is an essential element for all garages. However, these sizable table tops can consume a sizable space of your garage and limit your parking and storage space.
For this, erect a foldable workbench that can serve as a storage space. Preferably, the workbench should be in the form of a box whose sides can be raised to increase your workspace.
Also, consider installing wheels on your unit to ensure comfortable use from any area within your garage. This is an excellent option for a two-car garage as it allows you to tend to either car without having to shuffle your vehicles.
Alternatively, you can settle for a wall-mounted fold-down workbench supported by pipes with flanges screwed to their tips.
See Also: Top 7 Garage Wall Mounted Vacuums (Review) – Which One Is The Best For Your Needs?
10. Add Power Outlets
Electrical power is among the most used resources in garage projects. As such, power outlets dictate your workbench placement, which plays a critical role in garage organization.
To ensure versatility during the organization, ensure that power outlets are well distributed within your garage.
Space Allocation
Before mounting your shelves, mark the area that your cars consume and organize how the remaining space can be used for storage. After determining the free space, select the larger space and install your workbench.
The smaller sections can be used for wall attachments as these do not consume a lot of space.
Time Efficiency Tips For Car Garage Organization
1. Avoid Piping Paths
When organizing your garage, avoid the paths where pipes are installed as they may leak and ruin your items. Also, leave room for accessing piping paths, thus making it easy to fix plumbing issues.
2. Take Everything Out
The starting point to garage organization is taking out each item within your garage. By doing this, you can install shelves where necessary and organize your items into categories.
Also, taking items out allows for proper vetting, thus ensures that you only keep what is necessary. Afterward, sort the items in order of their relevance to your tasks and assort them in terms of their purpose.
While at this, separate the specific tools for each vehicle to place them in a convenient spot.
3. Take As Much Help As You Can Get
Sorting through years of heaping items may prove a daunting task for one. For optimal results, you should ensure that you are fresh when selecting what to keep. As such, engage friends and family to help you remove the clutter from your garage and sort it to the appropriate section.
4. Be Ruthless
Decluttering your garage may often prove a nostalgic walk down memory lane. Ranging from the shoes you last wore four years ago to your defunct Christmas decorations; everything may demand recognition of its sentimental value.
However, this may result in a cluttered room as opposed to a neat garage. To avoid this, gauge items by their relevance to your current style and taste and eliminate each item you didn't use in the last five months.
While at it, shuffle through your books and clothes and donate whatever does not impact your life. This is because books and old clothing pieces consume a lot of floor space and are a breeding space for rodents.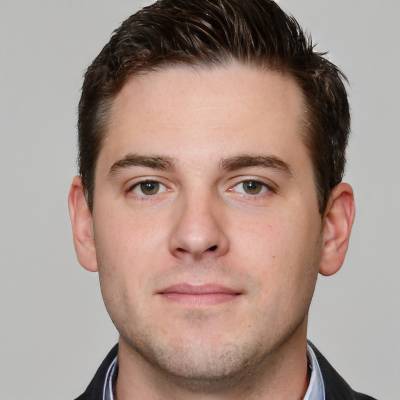 James has been a car enthusiast since his childhood when he learned the differences between a ford and a chevy from his father. He loves to drive and restore old cars with a special drive for Italian marvels. Currently, he has a 1968 Alfa Romeo. He has studied aeronautics and civil aviation in his college and still gets smitten by Galant SS and Lancer GSR.
He is a New York-based product training director working with a giant automotive retailer. He loves to review and uncover the vehicles and their fascinating stories. He believes in keeping it legitimate with a keen passion for research on the latest technological upgrades in cars. While reading his articles or blogs, you can sense the extensive research and dedication backing the piece of text. He loves fried chicken, music, and spending quality time with his pet dog.