Everyone wants to have a safe and accident-free trip no matter the speed at which they move. One of the safety measures the government has taken is making the use of seatbelts compulsory.
Anyone caught traveling without fastening their seatbelt will face the penalty as proposed by the government. It's no doubt that seatbelts usage can be very annoying.
Most people, even kids, avoid seat belts because they feel irritated with the way they rub on their chests and faces, and at the same time, belts also get close to the neck and leave injury on users.
This problem encountered while using seatbelts can be solved by the use of adjusters. However, seatbelts don't just hang on our bodies when applied. They have buckles used to hold them down.
It is frustrating when seatbelt buckles get out of position and make it uneasy for seatbelts to be buckled. The solution to this problem is the use of buckle holders.
Buckle holders are applied to keep buckles in position, which makes it easy for seatbelts to be buckled.
Have you gone online or to a store and wonder which buckle holder is the best for you? Below are described some of the best buckle holders you'd like to get for yourself.
Best Overall
Wididi Seatbelt Buckle Holder
Every day comes with new inventions; you get online and see new accessories or, probably, upgraded versions of the existing ones.
This is because everyone wants a more comfortable life for themselves. Wididi provides products that help to promote a more comfortable life and give solutions to some day-to-day challenges we have to deal with. One of their products is a seatbelt buckle holder.
Why the WIDIDI seatbelt buckle holder?
The Wididi seatbelt buckle holder is made from a soft but long-lasting polymer called silicone. Its softness aids the installation as the buckle holder gets attached to seatbelt buckles without stress, slipping in with ease.
You have nothing to worry about because the buckle holder causes no harm or damage. It doesn't even leave a scratch on the belt receiver.
The buckle holder helps to keep a seatbelt receiver in position, making it easier for adults and kids to fasten seatbelts quickly.
Wididi seatbelt buckle holder does not get slack quickly. The silicone material is relatively elastic, expanding slightly on installation, and maintains a tight grip around the buckle after.
Pros:
Effortless and easy installation.
Keeps seatbelt buckles in place and an upright position, making fastening of seatbelts easier for both adults and kids.
The holder lasts long.
It helps in encouraging drivers and passengers, especially kids, on the use of seatbelts, therefore increasing safety.
Saves time.
Cons:
It is not universal – it does not work on all buckles.
Buckle Buddy Seatbelt Buckle Holder
Imagine getting injured from using a seatbelt inside a vehicle you worked so hard to purchase or having to apply extra effort or go through difficulty in buckling the seatbelt.
Buckle buddy provides products or accessories with the primary aim of making life easier and comfortable.
Why Choose Buckle Buddy Seatbelt Buckle Holder?
The Buckle buddy holder is made from a soft, elastic, and long-lasting material, silicone. The softness and elastic property of the material aids the ease at which the holder is installed.
The buckle holder is flexible, making it fit nicely into buckles of different sizes and shapes. Compared to all other buckle holders, Buckle buddy holders are taller, increasing the strength of their grip, hence, stability and uprightness.
With Buckle buddy seatbelt buckle holders, you and your family can get your belts comfortably to the receiver.
Pros:
It saves time.
It's easy to install.
Kids and adults can get their seatbelts buckled without receiving any extra attention.
It is durable.
The holders come in two sets containing high-quality holders to serve the two rear seats.
Not harmful or toxic.
Cons:
It does not work on all buckles, especially embedded or fixed-standing ones.
Helio Seatbelt Buckle Holder
Have you got stuck trying to find the position of your seatbelt receiver? Do your kids complain so much that you always have to help them reach their seatbelts buckled even when the time is not on your side?
And maybe you jettison the idea of fastening your seatbelt when this problem arises. Worry no more, Helio is at the rescue with very efficient buckle holders.
What makes Helio buckle holders unique?
Helio provides amazingly designed seatbelt buckle holders based on the upgrades that have occurred with new vehicles. The buckle holders are made from silicone, a soft elastic polymer.
They are flexible, long-lasting, and do not lose their grip or get quickly worn-out under usage.
Helio's design is so efficient that even when seats are folded, no damage is caused to them by the holders, and at the same time, the buckle holders still keep buckles intact.
They help buckles maintain a position that makes it easy and time-saving for people, both kids, and adults, to fasten their seatbelts.
Pros:
Helio buckle holder is straightforward to install.
It saves time.
Keeps seatbelt buckles in an upright position.
It makes it easy for kids and adults to buckle their seatbelts quickly.
Fits well on a seat and causes no damage.
It's long-lasting.
Cons:
Helio seatbelt buckle holders do not work on every belt receiver.
Eztotz Seatbelt Buckle Holder
EZTOTZ, understanding the importance of being safe and secure, takes pride in getting these problems to solve and promote an easier life.
For easy buckling of seatbelts and reduced concern on your kids getting their belts to the receiver, EZTOTZ seatbelt buckle holder is the ideal product for you.
Why should I choose EZTOTZ seatbelt buckle holder?
This product is manufactured in the United States. It is made from soft, harmless food-grade material.
The manufacturing material of this seatbelt buckle holder is approved by the food and drug administration to erase any concern users may have on whether the product is toxic or not.
EZTOTZ has designed its holders so well that it is effortless to install. They are not made too hard or tight and slip in with ease when installing on a buckle.
The buckle holders keep buckles stable and upright and, at the same time, do not damage the leather of the seats.
Pros:
Easy installation.
It allows easy and time-saving access to the seatbelt buckle.
Encourages kids and adults to use a seatbelt.
It is not toxic or harmful to children.
At EZTOTZ, a 100% refund is provided if the product does not fit in your vehicle.
Gives a solution to floppy seatbelt buckles.
Cons:
It does not fit into every buckle, and you could have to measure before purchase.
Storchenbeck Seatbelt Buckle Holder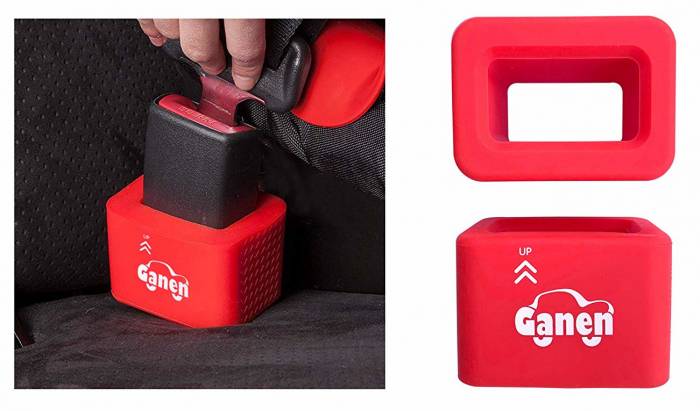 Keeping yourself and your family safe and secure is of paramount importance. Seatbelts are essential safety gadgets; they provide stability for drivers and passengers and reduce the severity of injury in the course of an accident.
Not only that, but seatbelts also keep us grounded in sudden situations like the application of breaks to avoid a collision or other causes.
Also, with seatbelts, we can rest assured that our kids are safe and won't get out of the vehicle without our consent.
Do you still Ignore the use and importance of fastening seatbelts because of the discomfort you feel when you try to? Do you leave your kids unbuckled, too, because you have to go and help them get buckled? This may cost you more than you will spend on getting a buckle holder.
Storchenbeck, a company that is interested in making life easier for kids, especially, has come to your rescue with a well-designed buckle holder.
Why not get yours here?.
Why should the Storchenbeck seatbelt buckle holder be your choice?
Storchenbeck seatbelt buckle holder is flexible and can be used for a long time. Its flexibility and durability are accounted for by the soft silicone material used in its manufacture. Silicone possesses elastic properties, and this makes it easy for the buckle holder to be installed.
Pros:
It's designed to fit into all standard seatbelt buckles.
Installation is effortless and needs no technical know-how.
It keeps the seatbelt buckle in a fixed and vertically upward position, hence, making it easy for anyone, even kids, to buckle up.
Manufacture from nontoxic, flexible, and long-lasting silicone material.
It provides easy access to seatbelt buckles.
Cons:
It does not work for some seatbelt buckles.
FAQ
Does any buckle holder work for all buckles?
This is the most frequently asked question, and the answer is "NO".
There are different producers of buckle holders, and it should not be surprising if one that works for a particular vehicle does not work for another.
Though the differences in the products' dimensions may not be much, it still accounts for why they are not universal.
However, the solution to this problem is getting your seatbelt buckle's measurement before purchasing a holder.
Does the installation of a buckle holder cause any damage to the seat?
A seatbelt buckle holder is straightforward to install this is because of the flexibility of the manufacturing materials. It slips in easily when applied to a buckle.
Buckle holder grips buckles tightly and sits nicely on the seat when installed.
With the holder installed, car seats can be folded without a worry on whether it can damage the leather or the seat upholstery, generally.
Conclusion
Seatbelts are an essential component of vehicles. They are so crucial that even the government has made them compulsory.
Anyone caught by government officials without a buckled seatbelt faces a fine.
Do you ignore using a seatbelt because getting it buckled wastes time? Has your answer to your kid's "Mum, can you please help me fasten my seatbelt?" been "Leave it, dear, I'm running late for work."? This could be a dangerous decision because we don't know what life can throw at us any time.
You should always do everything to keep yourself and your family safe. Get seatbelt buckle holders and make your seatbelts get to the receiver quickly.
There are several manufacturers of seatbelt buckle holders. No matter the design, their primary function is to make the fastening of the seatbelt easy for both kids and adults.
The only problem you can face with these products is getting one that fits well into your seatbelt buckle.
All you have to do is measure your buckle before purchasing any holder.
Your safety and security are paramount. Remember, if you can't create comfort, buy it!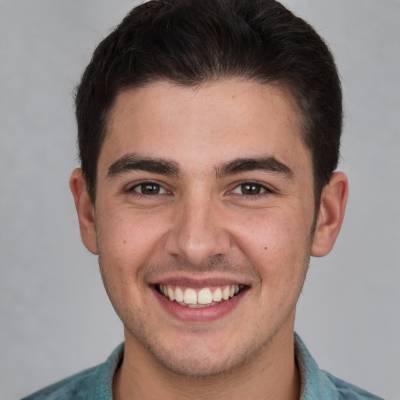 Kevin has been hanging around cars and automobile magazines since he knew what a car is. He grew up in his father's 1995 Mercedes E320 Wagon and Volkwagon Phaeton W12 2004. He rides his first car, a manual 1979 Porche 911SC.
Currently, he owns an Acura Integra GS-R. During his childhood, he showed a keen interest in how things actually work and fix them. This passion transforms into his eternal love for cars and bestows him an ideal position in one of the leading automobile companies; whenever he finds time, he takes out his Acura and opts for the longest possible route to find hidden wholesome pleasure in a road trip.
Want to read some of the articles written by Kevin? Head to our blog section to find out all the articles written by Kevin.