Imagine you and your best friend singing along to your favorite artist in your car when all of a sudden, all you can hear are screeches – oh, I mean, your voices. You look at each other, and then you realize that your car audio system just gave up on you. The reason? An average battery.
To prevent awkward situations like this from happening, you need to invest your money in a reliable car audio battery that would last throughout your carpool session.
With so many options present in the global retail shops, it can be confusing to pick one. There are just so many products! How do we differentiate between them? What should we even be looking for in a car audio battery?
Hold up! You have come to the right place to get all the information you need before buying a specific battery. Read below to find out about the best six car batteries that we could find in the market. Not only this, but you will also find an extensive buying guide at the end that would help you navigate in your venture.
Review of The Best 7 Car Audio Batteries:
Best Overall
1. DieHard 38217 Gold AGM Battery
What We Liked Most About This Product:
We want a device that does not put our lives in danger. Thus, one that has extra precaution against such incidents is our go-to product. DieHard 38217 has full-frame negative and positive plates that eliminate the threat of electrical short-circuiting and as well as overheating.
The electrolytes absorb the acid like a sponge, which reduces the chances of spillage and, thus, ruining your car's interior.
Product Overview:
With more than 50 years of innovation, DieHard is one of the most dependable battery brands on the market. The DieHard 38217 Group Advanced Gold AGM car audio battery is a powerful and high-performance battery.
DieHard 38217 Battery is made from AGM technology. This unit provides us with 20 times more vibration protection as compared to related models in the market. This non-vibration factor also helps to safeguard the unit against damage.
Furthermore, it helps alleviate the performance of the battery. It embraces a 2 times more lifecycle as compared to conventional lead batteries.
The unit has a Cold Cranking Amperage(CCA) of about 850 amps and a reserve capacity of 170 minutes. The prototype is made with such precision that it avoids all acid spill types. The device further aids in protecting your equipment that is cocooned in the bonnet of your car.
Moreover, it has an enhanced electrolyte suspension system which absorbs electrolyte and prevents the internal equipment from deterioration.
Even though it is quite heavy, this is an excellent investment at a great price. After all, the manufacturer offers a 3-year warranty that covers defects in materials and workmanship. Also, this is a maintenance-free battery that won't cost you a lot in the long run.
Pros:
The sturdy battery gives 20 times more vibration resistance
Safe to use with fully optimized positive and negative plates that prevent electrical shorts
No more leaks as it has a spillproof design
Product Dimension: 13.9 x 6.9 x 7.5 inches.
Spillproof Design.
High maintenance-free performance.
Performs ideally in adverse weather changes.
Easy to mount in any position
3-year warranty
Cons:
The battery does not hold a charge for long
It does not remain in place.
Not suitable for some vehicles.
2. Stinger SPV69C Power Series Dry Cell Battery
What We Liked Most About This Product:
The Stinger SPV69C 660 amp dry cell battery is an excellent option for those on a tight budget but still want a reliable and well-performing car audio battery. This unit features a leak-proof and non-hazardous design that makes it reliable.
Stinger SPV69C has a completely 100% sealed casing.  The AGM technology holds the acid between its electrolytes effectively, which eliminates leaks. This prevents any type of spillage from coming out of the battery and spoiling the interior of your car. Thus, this device is a hassle-free, low-maintenance device that keeps us out of the way as much as it can.
Product Overview:
Stinger SPV69C is a power series 12V Dry Cell Battery with an AGM, i.e., absorbed sealed glass mat prototype. It has a CCA of 600 amps. Moreover, it embraces a full discharge cycle of 300. It stores energy efficiently, so you do not have to buy a capacitor and spend extra bucks.
This unit is perfect, as you can use it as a substitute for your vehicles' conventional batteries. You can also use it as an additional battery to power your sound system.
The design is spillproof, which makes it a convenient model. The water or acid from the battery is restricted within the casing. Thus it will not spill and causes a functional lag in any of the equipment residing in your bonnet. It is safe and non-hazardous.
The unit does not require extra maintenance. It has easily removable brass battery posts so that the unit can be fitted into most places within the car's interior. Moreover, it accepts ring-shaped terminals.
The best part is that you can either utilize it as a starter battery to replace your standard battery or as an additional battery for powering your aftermarket stereo system.
This is a durable battery, as it is made of corrosion-resistant parts. You won't be required to purchase a capacitor to store energy as this battery does that for you.
Generally, the Stinger SPV69C 1100 amp dry cell battery is a great purchase since it is not costly but performs very well. However, it should not be utilized for robust sound systems as it is not very powerful.
Pros:
Sturdy construction
Can be used as a replacement for a standard battery
Great for more than 300 full discharge cycles
Maintenance-free battery
The battery is sealed and spillproof
Product Dimensions: 6.5 x 6.8 x 7.8 inches.
Easy installation.
No additional electrical equipment required,
Cons:
Low Cranking Amperage.
It might be challenging to function in cold weather.
It does not crank the car efficiently in adverse weather changes.
3. XS Power D3400 XS Series High Output Battery
What We Liked Most About This Product:
Since we want an additional battery for our car, we want a unit that can fit wherever it is convenient. XS Power D3400 does not possess any external vents. This allows the battery to be installed wherever you want it to. Thus, this device is ideal for audio systems.
Product Overview:
XS Power D3400 is a 12 volts battery that has a cranking amperage of 1000 amps. The battery has AGM technology with the electrolytes held between the fiberglass.
This car audio battery can be mounted in any position as it is fully sealed with ultra-low internal resistance. So, whether you drive on a flat surface or bumpy surface, the battery will still perform optimally without being damaged.
This unit supports the higher electrical demand that is required. Moreover, AGM technology also ensures no leak from the battery. The device is completely sealed off, which further prevents the acid's spillage.
Furthermore, the device resists any type of shocks like excess heat while driving up a steep road. It has low resistance, which makes mounting it very easy. You can use this deep cycle battery to power your car's engine without any extra help.
If you live in places with extreme temperature conditions, then this battery will still perform at a high level no matter the situation. This is because it resists both extreme heat and cold. So, it will still power your audio system or electronics as usual and without failing.
The device is valve regulated, which means it is repellant to vibrations and eliminates any type of damage to your car's interior.
XS Power Battery can be installed without requiring any extra effort from your side. It is a durable, reliable, and efficient device that can work in extreme temperatures and as well as in unfavorable conditions with ease.
Pros:
Can be mounted in any position
Ultra-low internal resistance
Durable construction
Excellent power to run the most powerful sound systems
Can resist extreme heat and cold
Vibration resistance for longevity
Compact design that fits in most battery compartments
Product Dimensions: 11.9 x 10 x 8.7 inches.
Non-Hazardous prototype.
Resistant to corrosion.
3-year warranty
Cons:
Heavier than other models (46 pounds).
It does not hold a charge after a few years of use.
A bit pricey than related models.
4. Kinetik HC600 Lead Acid Battery
Since its introduction in 2003, the Kinetik HC600 deep cycle battery from China has been performing at a high level. The 12-volt battery isn't just affordable but an excellent option for individuals looking for an additional battery to power their high-end sound system or replace their regular car battery.
What We Liked Most About This Product:
We need a device that gives our car optimal performance – a device that makes you can run just as smoothly on a hot, sweltering day as it does on a typical spring morning. Kinetic HC600 Battery has a CA of 600 and an 18 amp per hour rating.
It is specifically designed to resist vibrations. You can gear up this unit to go to any place without any adverse effect on the performance. The non-leak design further ensures the safety and durability of the device.
Product Overview:
Kinetik HC600 lead-acid battery provides a voltage of 12 volts and a high current output for car audio. It has an AGM design that works perfectly well for the 600 Watt stereo system.
Moreover, It is 100 percent sealed, and you can mount it to any position required. It can power more than a capacitor with a capacitance of 100F. Since the cells are highly packed together for an effective voltage production under the power load.
The unit has ultra-low internal resistance and plates capable of high energy density storage. You can use this lightweight electrical appliance to power up your car as well as your stereo system efficaciously.
Moreover, it does not have any external openings. This points out that you can install it in any place within the bonnet you find convenient.
The ABS plastic casing seals the unit completely and makes it repellent to heat. The case also helps keep the vibrations that come from the car's operation to a minimum.
Besides, its leak-proof design with no external vents enables the user to fit it in most standard battery locations without worrying about leakage.
The Kinetic power cell battery is also durable as it has a lifespan that is twice that of a standard car battery. Just like most car audio batteries, this unit can be utilized even when the car engine is turned off. So, you won't need a capacitor to store energy.
Pros:
It is durably made for longevity.
Functions perfect for sound systems with 600 watts or below
Can be mounted in any position
Great price for such a quality battery
It is maintenance-free
Product Dimensions: 7 x 3 x 6.5 inches.
Sealed casing.
Fast discharge and recharge.
High-end performance.
Cons:
Not long-lasting.
Needs recharging frequently.
Needs frequent maintenance.
5. Shorai LFX36L3-BS12 Lithium Iron Battery
What We Liked Most About This Product:
We all are aware of how climate change affects everyone –whether it is humans, animals, or our environment. Thus, what made us include this device in our review was the fact that it is eco-friendly. It can be disposed of quickly.
All you need to do is discharge it and then dump it. The unit decomposes naturally into the soil. It helps to eliminate waste pollution and the reduction of plastic products.
Product Overview:
Shorai LFX36L3-BS12 is an ultra-light car audio battery that weighs one-fifth of the weight of the lead-acid batteries. It is safe, and there is no danger of it emitting explosive gases while it is charging. It has been manufactured while keeping its buyers' safety in mind.
Moreover, it has a fast cranking, which causes a better, effective start of your car. It does not only have a slow discharging rate, but it also causes the battery to recharge back to its full potential very quickly. The device needs to be charged twice a year. That also depends on how often and in what conditions it is being used.
It has a well-built casing that keeps the battery from vibrating excessively. It keeps it from displacing from its original position and also helps the unit as well as your engine to remain cool enough to function properly.
Pros:
Product Dimensions: 3.39 x 6.54 x 6.1 inches.
Safe operation.
Friendly to the environment.
Cons:
Below-average performance.
Defective in cold weather.
It can be dangerous if not handled correctly.
6. ExpertPower EXP1290-2 Batteries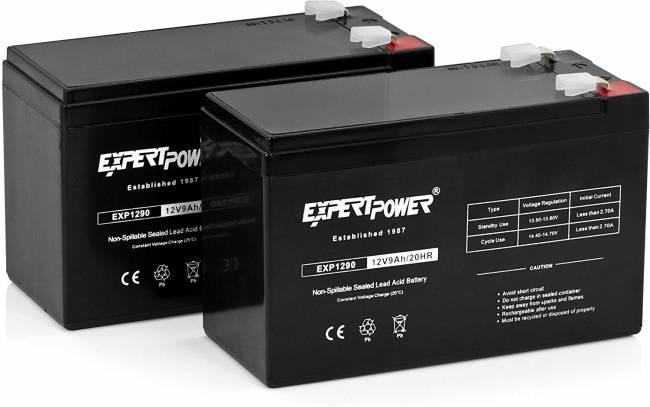 What We Liked Most About This Product:
The design of ExpertPower EXP1290-2 attracted us to include it on our list. The sturdy and rigid design makes this device the ideal device to work in rough and unfavorable conditions.
The battery has terminals enclosed in a non-conductive ABS plastic casing, which works efficiently even during high temperatures. The design promises us reliability, durability, and proficient operation.
Product Overview:
ExpertPower EXP1290-2 is a sealed lead acid battery that has a voltage of 12 volts and an amperage of 9 amps per 20 hours. It has a lifecycle of 5 years. It is relatively light and this aids in the easy unit installation. Furthermore, it is user-friendly, and you can set your system and get it running within seconds!
The device is compatible with APC backups, ensuring a hassle-free function. Furthermore, it has a slow discharge rate, which means you can jam along to your favorite songs on a long drive without worrying about the music system giving up on you.
This AGM battery makes sure that the plates absorb the acid effectively. This helps to prevent spills as well as makes the device capable of operating through varying temperature changes. Not only this, but it also ensures the resilience and the durability of the unit.
It is valve regulated, which means that you do not have to check the water level consistently. Thus, this gives you one less thing to worry about.
They offer a 60-Days money-back guarantee, and after 90 days, in case of a defective unit or any other problem, you can get it repaired or changed by contacting their customer services.
Pros:
Product Dimensions: 5.9 x 2.5 x 3.7 inches.
A no-leak design.
Maintenance-free.
Smooth operation.
Cons:
The indicator of the battery can be faulty.
It does not remain changed in cold weather.
It tends to deteriorate when stored for an extended period.
7. Optima Batteries 8014-045 D34/78 YellowTop Dual Purpose Battery
What We Liked Most About This Product:
Optima is not only a popular battery brand, but they also produce some of the most reliable and powerful batteries on the market. The Optima YellowTop battery is perfectly designed and offers excellent power. It delivers excellent cranking power and recharges very fast. That's why it is recommended for heavy-duty vehicles.
Product Overview
The Optima YellowTop D34/78 battery is a compact and sturdy battery that can be mounted in any position thanks to its spillproof design and avoids leakage. Moreover, this battery is ideal for 300 discharge cycles. With excellent cranking power, it can either start the car or power the electronic accessories on your vehicle.
For those who want a long-lasting battery, the Optima YellowTop unit won't disappoint at all. It provides up to 3 times longer life than standard batteries. Furthermore, it offers excellent resistance to vibration, which makes it last longer.
It also recharges quickly and functions perfectly in changing conditions. This battery's unique feature is that you can still utilize it even when the car engine is switched off. It has a reserve capacity of 2 hours, which is a long period before you will have to recharge it.
If you don't use your car regularly, you have nothing to worry about. This battery will still deliver power even after many months of being idle, thanks to the low self-discharge rate. Use this battery to power your car sound system and other electronic devices.
Pros:
Durable and long-lasting construction
Functions exceptionally well in extreme conditions
Powerful deep cycle battery
Recharges quickly
Optimal performance with the spiral cell design
Easily mounted in any position
Maintenance-free battery
Has 3 times longer life cycle than standard battery
3-year limited warranty
Cons:
Not the best battery for starting your vehicle
Battery for Car Audio – Buying Guide:
We have talked about some of the best batteries available in the market these days, but that is not all. Before you chose a particular product for your car, there are other things you need to address.
Having a quality sound system in your car is fun, but it puts a lot of strain on your car battery. That's why it is recommended that you acquire a quality car audio battery. This extra battery will be solely dedicated to power on your sound system. So, your sound system will perform exceptionally well without affecting your car's performance.
Before you rush to pick the best car audio battery for your powerful stereo system, you need to consider several things. Check out the available space that you've for installing the battery, know the wattage of the whole sound system, the number of cold-cranking amps, and its reserve capacity.
In the following section, we will talk about all the things you need to put on your checklist before going out to shop for a car audio battery. Then, we will address some of the frequently asked questions most buyers have.
The Need for A Separate Battery For Your Car Audio System:
We need to discuss in detail why you need to get a separate battery just to operate your audio system.
When you fit a stereo system in your car, especially a large one, it will need a higher output power to work; thus, it drains large amounts of current from your car's battery. This can put a strain on the battery that is already powering various components of your car.
This is where the need for an extra battery comes in. The audio system can be connected to the second battery that's sole purpose is to provide your system without lagging the performance of any other component. Another reason to invest in a second battery is to use the stereo system even when you turn off the engine.
Factors to Consider before buying a Car Audio Battery:
Cold Cranking Amperage:
Cold Cranking Amperage or CCA is the charge capacity of your battery. Most repair shops can estimate the charge capacity your battery possesses.
A battery that you are buying should have an amperage that matches the number of watts that it produces. Higher amperage of CCA will produce a higher amount of power.
Reserve Capacity of a Battery:
The reserve Capacity of a Battery lets you know the time it will run without the need to charge again. Usually, people prefer a battery with a couple of hours of reserve capacity, especially if you plan on using your car's audio system when the engine is off.
Moreover, suppose you are thinking of running a few other accessories on the battery. In that case, you should look for a Battery with a higher reserve capacity so it can be sufficient for all components.
Size:
This is one of the most crucial factors you need to check before laying your eyes on a particular battery. Your car has a limited space in which it has to fit various electrical parts. Thus you cannot choose a battery without giving any heed to the size of the battery tray your car has for an additional one.
Hence, measure the dimensions of the space in which you want the additional battery to reside and then look for a device that is closest to those measurements.
Maintenance of the Battery:
Most of the batteries that we have discussed above are maintenance-free. They have a 100% sealed casing that ensures no spillage or leaks. It does not require you to check the water levels or fill it occasionally. Thus, it requires no effort from your side.
Some Batteries have an unsealed casing and require you to check their water levels quite often.
It is a personal choice, but of course, a maintenance-free design means that you would have one less thing to worry about.
Vibration Resistant:
Vibration resistance helps to keep the battery in its place. Vibrations cause the battery to undergo shocks, which can damage the battery's interior, and it will not perform well. Moreover, a vibrating battery will make noise.
Lifetime:
When we invest in a particular product, we want it to last long. The lifespan of a battery generally depends on the amount of its usage, but every battery does have a rough figure of how long it will last if it is taken proper care of. So, check the expectancy out before buying a particular battery. Another thing to look out for is a warranty, which aids you if you face a problem with your unit.
Frequently Asked Questions (FAQs):
How many watts are suitable for a car stereo?
First, you need to calculate the wattage of your audio system. This will give you an idea of the output of power that the stereo requires to run. Then, invest in a battery that meets or exceeds that wattage.
For example, if you have an audio system with a wattage of 1600, you would need to buy a battery that meets that rating.
Why is the case of my battery bloated?
The case of the battery can be bloated due to several reasons. A buildup of gases within the battery can cause it to bloat. The battery is either being used for a long time and might need to be changed, or the battery can be overheated.
If you see any type of deformity in the case, take your car immediately to a technician. Get it checked!
What features should I consider when picking a car audio battery?
With so many car audio batteries on offer, picking the right battery with the ideal features is vital. That's why you need to know the critical features to look for before spending your hard-earned money on a poor battery.
Some of the things to consider include durability, size, reserve capacity, vibration resistance, maintenance, handle, price, and warranty. A good car audio battery should also be easy to install and made by a reliable brand.
What does reserve capacity mean?
When picking a car audio battery, you must consider its reserve capacity. The reserve capacity shows how long the battery will deliver power when it is not being charged.
Pick a battery with a high reserve capacity so that you can listen to music for longer hours, even when the car engine is turned off. A good battery should have a reserve capacity of more than 2 hours.
What are the advantages of using a car audio battery?
The car audio battery has lots of benefits over the traditional car battery. First, these batteries are cheaper than traditional batteries. Secondly, they deliver sufficient power that your car sound system requires for optimal performance.
Also, they come in various sizes, which means they will fit in different cars. Besides powering your stereo system, these units also power various electrical components onboard. Unlike traditional batteries, the car audio batteries power your sound system when the engine is not running.
How can I tell that my car audio battery needs replacement?
Different car audio batteries have different lifespans. As a result, you should ensure you acquire a durable battery that will offer you many years of good use. Most car audio batteries last up to 6 years. But just like many other types of batteries, it will weaken with time and fail. But how will you tell that your car audio battery needs replacement?
The first and common sign of a bad or weakened battery is the check engine light turning on. Another usual sign is that the electronics on your car fail to turn on without any warning. If you notice such signs, then you should replace the battery immediately.
Which battery should I install for my car audio system – redtop or yellow top battery?
This depends on your preferences and needs. Redtop batteries are great for starting the car engine as they deliver high bursts of power to the ignition. These batteries are also spillproof and maintenance-free.
On the other hand, yellowtop batteries are ideal for powering electrical components. These batteries are also convenient to use as they can be mounted in any position and provide excellent deep-cycle and cranking power.
What are the different types of car audio battery?
Similar to many other types of batteries, car audio batteries have a variety of types to select from. Different car audio batteries are best suited for various sound systems. So, you need to know the different types available and choose the one that best suits your car sound system.
Some of the most popular types include deep cycle battery, calcium-calcium battery, lithium-ion battery, wet cell battery, and valve-regulated lead-acid battery. A deep cycle battery is the most preferred, while lithium-ion is the most expensive. On the other hand, wet cell batteries are spillproof, while lead-acid batteries are entirely sealed.
In a Nut Shell:
Finding the best car audio battery for your car is vital as it will not only help you to reduce strain on your car battery but also provide power for other electronics in the car. Select a durable and high-performing battery for many years of use.
Take your time and consider the features each battery has. It should also be of the right size and comprise the right cold-cranking amps and watts.
Our list features some of the best car audio batteries that you can lay your hands on. Just ensure to go through every one of them before picking one that meets your needs and budget.
It is logical if you buy a second battery and use it only to power your audio system. This will reserve extra power in your car, and you won't have to worry about the music system giving up during a ride.
Before selecting a particular product, it is always smart to make a checklist to assess the factors on which you want to judge a product. Then, choose one that checks most of the boxes on your list. You should always buy from a reliable source to eliminate getting a defective, non-returnable product.
Patrick started his love affair with cars in his childhood. Over the years, he claims a sturdy hold on his driving skills, along with a thorough understanding of cars. We can expect some interesting, holistic, and pleasurable blogs with his flair for writing and his love for cars.
Being a car enthusiast, Patrick has experience comprising of two decades in which he has ridden some of the meanest and strongest machines in the automotive industry. His previous avatars include an automotive professional, photographer, and journalist, and you will certainly experience the roundness of experience in his piece on this site.
In his second decade of reviewing cars and analyzing tools, Patrick is all set to give you convincing, reliable, and the latest information regarding what's happening in the automotive industry. Currently, he owns a BMW Z3 but cannot get his eyes off Aston Martin DB5. He is a car enthusiast; he loves cooking and listening to music, especially jazz. Here are some of the pieces written by our ace author.